The semester abroad that I have been looking forward to since before I even started college is finally here! I have always been passionate about traveling to new places and knew that studying abroad would be an integral part of my college experience. Studying at University College Dublin was an easy choice for me because of the strong relationship that UA has with UCD, especially in their engineering department. Many of my classes were preapproved so that was one last thing to worry about.
I am finishing up my first week in Ireland and already have had so many great experiences. So far, UCD has been more than welcoming to their international students. They hosted a night with a traditional Irish band (and fish and chips), brought us through a "scarf" ceremony, and are taking a group of us on a FREE day trip to the Cliffs of Moher and Galway. Various on-campus organizations host free day trips around Ireland throughout the semester, which is perfect for the study abroad students who are ballin' on a budget.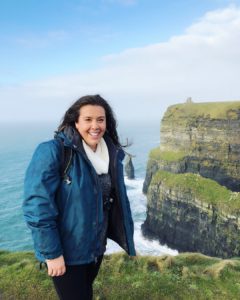 One major thing that I have had to get used to while being in Dublin is public transportation. I grew up in Louisiana and neither there nor in Alabama is public transportation a part of our daily life. Sure I have used subways and buses in big cities from time to time but that has never been my main means of getting around. Times are changing for me! No one on campus really has a car so the best way to get around is either walking or taking the bus. It is really not as hard to figure out where I am going as I thought but my directionally challenged self has definitely already gotten lost. Big tip is to make sure you always have a buddy so at least you won't get lost alone! Another big difference between UA and UCD is how they grade their students. I am looking forward to starting classes but I am a little apprehensive about the fact that finals are 70-80% of our grade in each class!
All in all it is going to be a great semester and I cannot wait to get it rolling!