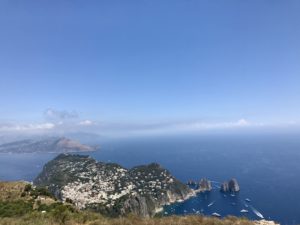 This summer was the first time I had ever ventured out of the country, and it was the time of my life. Everyone knows things will be a little different in a different country, but its one of those things that you just have to experience for yourself. First off, the language barrier. We are fortunate that English is our native language and that the majority of the world speaks it also, but that doesn't mean that everyone speaks it, or can communicate well with it. Being in another country taught me how to communicate with people in few words, or even without words. No one wants to be thought of as an annoying tourist, and the best way to counteract that is to show appreciation to the people for their culture. Do not go abroad expecting people to cater to you as an American, embrace the culture, and even when you do not know what to say or do, a smile goes a long way.
Secondly, the world is absolutely gigantic, and only getting bigger. Growing up in the southeast US we always say "it's a small world", and it only seems to get smaller as we get older and everyone we know also knows each other. Apart from our little comfort zone, the world is huge. I did not have a grasp on how progressive so many cultures are, even in parts of the world I assumed to be behind in the grand scheme of technology and economical advancement.
Lastly, going abroad will make you realize there is far and away more to know about the world than anyone could ever dream, and we should all do our best to continue to learn more, which means travel more! Traveling is the ultimate way to discover the world and what other cultures have to offer. So if you have the chance to study abroad, GO! This experience was much different than a vacation, in the best way. In this environment one doesn't just get the touristy highlights, you are able to see and experience so much more of the country you are in and truly learn what it means to be a part of another culture.