Hi again!
When I first arrived in my host country, my first impression was that it looked fairly similar to America and other European cities that I had been to. Obviously, all of the signs were in German, but I was relieved to see just how many of the employees at the airport spoke English. When I first arrived, I was a bit nervous and was eager to find my group so that I would feel more comfortable. However, once I found them, I was overtaken with excitement instead of nervousness. Right off the bat, I did not notice anything major that was new or interesting. I was impressed by the cleanliness of the city, the extensive public transportation system, and the accessibility of the city to English speakers. The first picture that I took abroad was of a group of colorful postcards near Checkpoint Charlie, which is one of the most well-known crossing points between the East and West sides of the Berlin Wall.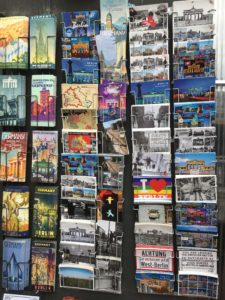 I think my favorite thing about Berlin is the uniqueness of each area of the city. There is Mitte, the area where I am staying, which is the city center. It is home to many government buildings and is beautiful, but not the most colorful part of the city. Then, there are places I have explored like Kreuzberg and Prenzlauer Berg that are decorated with eye-catching, colorful graffiti and have different types of food from all over the world.
When I leave Berlin, I think the thing that I will miss the most is the public transportation. There are buses, trams, the above-ground subway called the S-Bahn, and the underground subway, called the U-Bahn. Each system is very easy to navigate, and when combined, you can easily get anywhere in the entire city.
Taking classes abroad is very different than taking classes at the regular classrooms at the University of Alabama. First of all, my professor, Dr. Patton, believes in experiential learning. Most of the studying that we do takes place in the form of tours of important governmental buildings and historical sights and museum visits. We also do have lectures in small groups that are very discussion based which is different than some larger lecture classes at the university. My classmates are mostly other students who are studying political science, history, or want to attend law school. However, some of the people on the trip are studying things entirely different from political science, which gives them a different outlook in discussion. While the discussion-based nature of the classes we have here feels the same as the classes I have taken on Alabama's campus, one thing that feels very different is the flexibility and the fact that I am taking classes with mostly upperclassmen, which I would not necessarily be doing back in Tuscaloosa. Since I am studying German public policy, I have to try to adjust my world view to that of a German person to see firsthand why their government functions in the way that it does, which I believe has made me more empathetic and understanding.
While studying abroad in Berlin, I have taken two weekend trips. The first was to Prague in the Czech Republic and the second was to Budapest, Hungary. In Prague, I saw lots of beautiful, old buildings and castles, the river, and tried lots of excellent food. I went with three of my friends, Hunter, Darby, and Cooper. I chose Prague because I have always known it to be a "must-see" city in Europe. It was so beautiful and unlike anywhere I had ever been that I certainly did not disagree with that reputation! When I traveled to Budapest, I went with my friends Rachel and Cooper. We tried Hungarian food, went to the Hungarian National Museum, visited the Hungarian Museum of Natural History, saw the Hungarian Parliament building, and toured the Hospital in the Bunker. We also got stuck in an elevator and the Hungarian fire department had to come rescue us! Budapest was a very historic, old city, and just as beautiful as Prague. We visited Hungary because we were interested to explore an Eastern European country.
I have met many people who live in Germany while studying here. For the most part, they have all lived in different parts of Berlin. They are very cool and hip people who seem to know all of the best spots in Berlin to eat and visit. Most of the people who I have met and talked to at great lengths have been tour guides. One of the women I met was a graffiti artist and taught me how to make graffiti!
The most common language I have encountered in Berlin is German. However, almost everyone speaks excellent English because of their emphasis on learning a second language in their education system. Because of this, I really have not encountered a language barrier since I have been able to communicate with almost all of the German people I have met in English. To learn the host language, I looked up some basic phrases online and have spoken to another girl on our trip who speaks German almost fluently.
Around me, I see lots of beautiful sights like the Reichstag building, the Brandenburg Gate, and Tiergarten. I smell lots of delicious German, Italian, Indian, and Turkish food, which are some of the most popular cuisines here. I hear the sounds of a big city, like music, talking, and sirens from ambulances. I feel excited about being here and sad about my time coming to an end soon.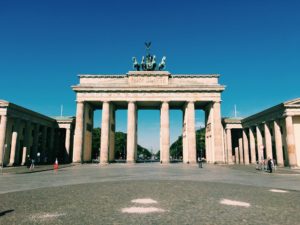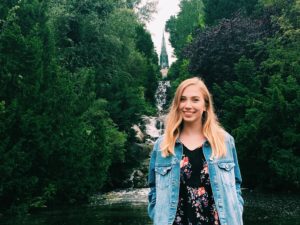 Since I only have a few more days left in Berlin, I have been trying to get organized, clean up my apartment, and wrap up the assignments I have been working on. I have collected some souvenirs like clothes, magnets, shoes, and even coasters. I feel very differently than when I first arrived. Now, I am not nervous about traveling, I simply feel prepared to take on the journey and feel much more mature and equipped to handle new situations. I have fallen in love with Berlin and will always consider it a place I call home.
Thank you for reading,
Sabrina