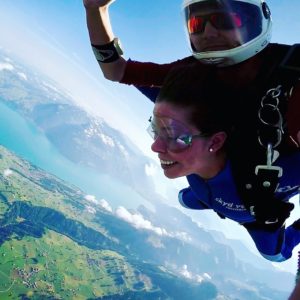 This summer I have visited 3 countries, and several different cities within Italy. Prior to this summer, I had never been out of the continental United States, it has been a bit different than the last 21 summers to say the least. During my third weekend away from Rome, where we are studying for the 5 weeks, I was in Interlaken, Switzerland. This particular weekend is one I will never forget, for many reasons, but mainly because I crossed something big off of my bucket list, skydiving. Yes, I jumped out of a perfectly good airplane, and I am not really sure what made me want to, but I just did. From about 2 seconds after I was out of the plane and grasped what was happening, I have been more amazed by life and views and nature than ever before. I could not stop looking around, and I never wanted to come down.
Part of the theme of this particular study abroad trip, which is through LeadAbroad, is to "Dive in". LeadAbroad wants you to embrace this in more ways than one, dive in to new culture, dive in to new friendships, dive in to a new comfort zone, but I took it way more literally, and dove in to a new world view when I jumped out of that airplane.
If anyone has the opportunity to go skydiving in their lifetime, I highly recommend it, especially in a place as beautiful as Switzerland, and LeadAbroad is the perfect program to give you these types of opportunities and many more!
-Emily