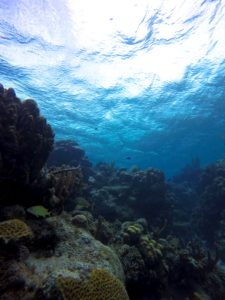 Having spent a few weeks since returning from my study abroad program, I have definitely had time to reflect upon my experiences. During my six weeks in Roatan, Honduras, I learned so much in regards to marine science and field research. It has truly broadened my understanding of the subject and has allowed me to form real world connections to information I all ready learned. Studying the reef systems there has provided me a completely new ecosystem to explore and learn from. I know my experiences in Honduras have left lasting marks that will further my education and career.
For one this trip has allowed me to master a skill that I have always struggled with. That is species identification. I was so horrible at species identification before. You learn best when you are fully immersed into something and so this trip provided the perfect opportunity to learn new species and more importantly set up a structure in which I could more easily learn species when I returned.
Another greatly valued experience I have taken away from this program is the diving itself. Before this trip I wouldn't really say I was a diver. I was certified but that was it. I had not dove beyond that but now I have the confidence to say I am a diver. To me that statement is so important because diving is such a fundamental part of the marine science profession. This trip provided an opportunity that would other wise is unavailable at the university to hone in on this skill and really perfect it. The diving experience I have gained from this program will serve me throughout my future career.
The experiences I gained this summer have helped to create what I hope is a better marine scientist but also a better-informed student. It allowed me to place the knowledge I already posses into a new context and build upon that knowledge.