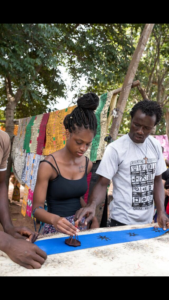 Now that I am back from Ghana, I feel fulfilled. I feel accomplished that I was able to travel the world all by myself and return safely. I feel as if my stay in Ghana was not long enough. I absolutely loved that country. The food, people, and just overall environment was so awesome. I don't even think words can explain how I feel right now. I am glad I was able to immerse myself in the culture and learn things about a part of me that was definitely missing. As an African American, this trip was very important to me. I've always embraced my American self but never FULLY embraced my African self but this trip has let me have the opportunity to do just that. When I first stepped off the plane I felt at home. The people were very friendly and made me feel welcomed. I know when some people think of Africa they think of dangerous,
but in this particular country it was the total opposite. It was very peaceful the entire trip. It was the most peaceful I have ever been. I now consider myself a changed person. I dare not to complain about the small things anymore and appreciate what I have.
I miss Ghana entirely too much and I wish to return soon. I was able to make lifelong friendships as well as learn about the culture and political issues in their country. My overall stay was amazing and I encourage anyone to visit Ghana one day.