Hi there!
My name is Sabrina and I am a sophomore at the University of Alabama. I am working towards a double major in Political Science and Philosophy with a jurisprudence specialization. My minor is with a liberal arts program called the Blount Scholars Program. I am also in the Honors College and am on the Pre-Law track. From July 4-August 1, I will be studying abroad in Berlin, Germany with Dr. Dana Patton and a group of UA students. I will be taking two public policy courses during my time there.
I chose to study abroad for a variety of reasons. My mother studied abroad during her college years and for as long as I can remember, she has told me about the great experiences she had during her trip. Based on how positive she is about her choice to study abroad and all of the great memories she has told me about, I was highly motivated to study abroad as well. Additionally, in high school, I was very interested in history, particularly European history surrounding World War II and the Holocaust era. The sights and outings that are part of the Berlin trip sound fascinating to me because of my historical interests. Before deciding to go abroad, I had to carefully plan the rest of my summer. I was lucky to find an internship that lasted just one month that I could complete before my study abroad trip. I also had to make the decision to not return to my paying summer job in order to partake in this meaningful experience.
Most of my preparation for my trip abroad has to do with material items. I am a notorious over-packer, so I had to weed out unnecessary items and clothes and stick with the bare necessities, things that would be practical and versatile. Mentally and emotionally, the most important thing I have done is prepare myself to be away from my family and close friends in an unfamiliar place in a new country for a long duration of time. Sometimes I get nervous about doing new things without much help, like navigating a new country. However, I am teaching myself to channel my nervousness into excitement about all the great new things I will get to see, experience, and learn! In my suitcase, I am carrying clothes for slightly cooler weather, as Berlin is not as warm in the summer as my hometown in Maryland. I am also carrying a travel journal that one of my closest friends got for me as a gift, so that I can keep track of all the fun memories I am making! I will carry the knowledge that my family and friends have faith in me to face all of the challenges that will come with navigating a new country.
Most of what I feel in preparation for this trip is excitement. I am really looking forward to seeing all of the sights, such as the Berlin Zoo. Other than excitement, I feel a small amount of nervousness about the change in culture I will experience and the sense of independence that I will have. Mostly, I am thinking about how the apartment I am staying in will look, what kinds of stores will be around it, and the sights that we will be visiting. I have been abroad before, and I am very excited to be spending more time in Europe, specifically in Germany because I have never been there before. I am dealing with my nervousness about certain aspects of the trip by reassuring myself that it will be okay and acknowledging the fact that I have the resources to tackle any problems that could potentially arise.
From my study abroad experience, I hope to gain a new perspective on European ideals and values and learn what the cultural differences are between Germany and the United States. While I am in Germany, I would like to see all of the sights important to World War II and tour a concentration camp. I would also like to see art museums that Berlin has to offer and observe the architecture, try new foods, and interact with new people including German citizens and other travelers.
Now to finish packing up my suitcase and get a good night's sleep for my full day of traveling tomorrow!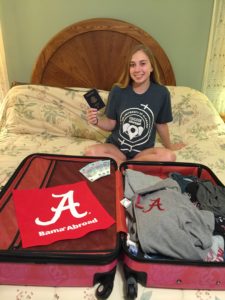 Thank you for reading,
Sabrina