During each session we had one free weekend to travel on our own. For the second free weeken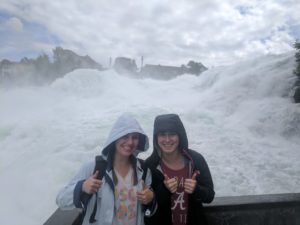 d I decided to travel to Zurich, Switzerland with my friend. The highlight of the weekend was Saturday. We left the hostel early and took the tram to the main train station. We bought our ticket and headed up to Rhine Falls, the largest plain waterfall in Europe. It was amazing. The amount of water rushing over the rocks and the splash at the bottom of the falls was unbelievable. We sp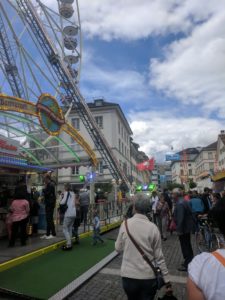 ent about 2 hours just sitting, eating pringles, and watching the water. It was nice to be able to relax and chat for a little bit.
On the way back, we decided to stop at a small town for lunch. We left the train station and started looking for a restaurant. As we were walking we came across a small festival. We walked around weighing our options for lunch. We were ran across a stand with fried apples and decided that dessert first is always the best choice. Then after walking for about thirty minutes we finally decided on a falafel sandwich. It was the definitely the best meal I had the whole weekend, and probably one of the cheapest too. After lunch, we headed back to the train station to head back to Zurich.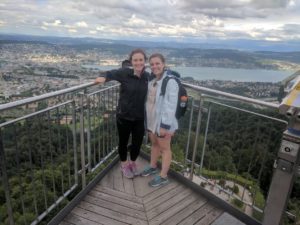 When we arrived in Zurich, we changed trains again and headed out to Uetliberg, a mountain outside the city. The train took us up the mountain and then we hiked to the top where we were able to see all of Zurich. There is a lookout built on top of the mountain and when we climbed to the top we could see for miles. The wind was blowing pretty hard and to be honest it was pretty scary to be up there, but it was a breathtaking view.
Overall it was one of the most perfect days. We caught all the trains just in time, stumbled across the festival by accident, and got to spend the day out in nature.