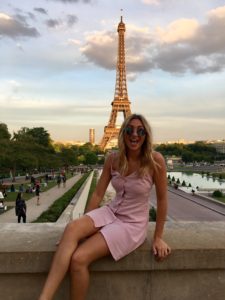 It is now week four of my study abroad trip and I have been to New York, London, Paris and finally, Milan. The trip started out awkward and a little weird since we had all just meet each other and we were still in the USA. I wish we would've gone straight to London instead of spending time in New York because I didn't really feel like I was doing anything special and I had been there before. Arriving in London, I was a little surprised because I thought it was going to be more like New York. It ended up being a lot different and I really enjoyed London. Although the hostel rooms were a bit small and VERY hot (because of no air conditioning), I enjoyed our hostel. It had a great atmosphere and the workers were friendly and some of us made relationships with the workers. I didn't really feel like I was out of the country in London because everyone spoke English. Overall, I loved London and all of the locals were friendly.
Paris was not what I was expecting at all. I honestly didn't like Paris that much but i'm glad we went and experienced it. The locals were kind of rude and no one was worried about their personal space, which I wasn't a fan of. My favorite part of Paris was eating crepes by the Eiffel tower which I will miss. I was surprised by the language barrier because most every person that I talked to spoke English. The Hostel bedrooms were a lot bigger but living with 8 girls in one room can be a challenge. The showers were very interesting. You had to press a button to turn the water on and it goes off every 30 seconds to save water. I got a little frustrated with this but it really wasn't that bad. Paris was probably the least favorite abroad place that we went but I am glad I got to experience it.
Being only in Milan for one day, I don't have much to say about it but it is probably my favorite place so far. Not as many people speak English here but it hasn't been that big of a problem yet. Google translate is a good friend. The hostel we are staying in right now is a lot nicer than the other ones and the workers are very very friendly and helping. Milan also wasn't what I was expecting either. I thought it was going to be like Rome but it is a lot nicer and relaxed. I don't really know much to do in Milan but one thing I am excited for is the pasta. I can't wait to see the rest of Milan and see what all the hype is about.
So far my study abroad trip has been educational and fun. I have learned a lot about the world and the fashion around the world. I feel very uneducated because most everyone speaks english and I don't even know another language. This has made me want to learn a new language. Experiencing all the different cities has also made me want to learn more about their culture and why they do some of the things they do. This trip has been very rewarding for me so far and I don't think I am ready to go home in a week.