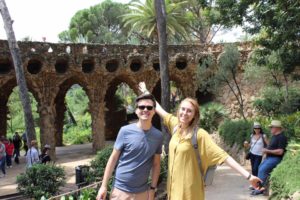 I can only think of one word to describe my time in Spain so far: wow. I've been to so many cities, visited so many cathedrals, done so many things, and learned so much about the language and culture; and it's only been three weeks! So here's a quick summary of my Spanish language confidence on the trip thus far. The first week I came in feeling somewhat confident. I knew that there was still a lot for me to learn, but I was sure that I could pick up quickly and get by with what I knew. The second week I realized I DON'T KNOW ANYTHING! There are so many words and grammar rules that I just can't seem to get down. It was slightly overwhelming, and I really just felt like my Spanish was getting worse and worse. Then came the third week. At this point, I realized that I do actually know quite a bit of Spanish. I am able to communicate well with locals even if I don't know every single word. It's okay to mess up the grammar sometimes. The best way to learn is to make mistakes! Now as I start my fourth week in Spain, I have much more confidence in myself and I'm proud of how much I have improved during my time here. The thing that I think has improved most is my ability to listen. I generally understand everything that people say to me. Even if I am unsure of some of the words, I am able to piece things together and find the meaning.
I'm excited to keep learning during my last week here, but I'm getting nervous about going home because I don't want lose all the Spanish that I have learned. As I talk to other people in this program, we have decided that some of the best ways to keep learning and improving while we are in America involve the media! I have started listening to a lot of Spanish music which helps with understanding and also pronunciation. I also found some Netflix shows that are completely in Spanish that I am planning on watching when I return to America. Lastly, some of my friends and I are talking about having Spanish movie nights when we get back to Alabama. We want to do this about once a month and we will make food, talk in Spanish, and watch movies (in Spanish of course). That way we will stay on top of our conversational Spanish as well. In addition to the classes that I will be taking, I truly hope these things will help me to keep improving once I return home.
Spain is a beautiful and diverse country. We have visited so many cities and experienced so much of the culture. I can't even begin to describe how incredible this experience has been. One of my favorite things was our trip to Cordoba. While we were there, we stayed in a hotel and not only got to explore the city, but also experienced a traditional Flamenco dance performance! It was so intense and exciting. I really would recommend seeing this if you are ever in Spain. Another city that I loved was Barcelona! It was definitely  my favorite city that I visited while I have been here. Everything there is so bright and colorful. It's on the water, so there is a nice ocean breeze and a beach where you can swim. It is a very touristy city which makes it really cool because there are so many different cultures and people living as well as visiting there. It is a truly global city and all the people are so friendly. Overall, this trip has been amazing. I can't wait to learn more during my last week here, and I'm sad that my trip is almost as its end.