Getting off the plane from Atlanta to Madrid was one of the most exciting and nerve racking things I have ever done. What will the school be like? Will I meet friends? Will I even be able to communicate with these people for a month? Questions like these and many others raced through my mind as I walked to baggage claim. Little did I know, the best month of my life was just beginning.
On our trip, we lived in San Lorenzo de El Escorial, home to the Monastery of El Escorial. What an amazing place! It is a small town with a monastery built at the base of a mountain around 50km from the city of Madrid. Can you imagine the view? (I promise you, no picture can ever do it justice.)
Beautiful, right?
Since this program emphasizes the use of Spanish, we had conversation partners that lived in and near the city of San Lorenzo! This was one of my favorite parts of the program. We truly got to perfect our Spanish and even learn a little slang along the way. One of my conversation group's favorite things to do was to go to Valenciano's, a local ice cream shop. We would sit for hours just talking and learning new things about each other's cultures. I feel like I learned more from this time with our partners than I could ever learn in the classroom.
As much as this trip seems like a huge vacation, we do actually take classes abroad! (Shocker, I know.) I lucked out and took amazing classes. I enrolled in Spanish Conversation and an Art and Museum class. Because these classes were abroad and not at UA, we were able to to learn in ways students at the main campus will never be able to. For example, in Conversation class we visited a local high school to learn about life in Spain from the students. It was such an amazing experience to visit with these high schoolers not only to practice Spanish, but to personally meet locals and learn about their life in Spain. It was an experience I will never forget. Meanwhile, in our Art and Museums class we were given the opportunity to study the monastery in San Lorenzo and the art inside it! Learning the meaning behind the paintings and structures of the monastery made me appreciate our location that much more! (Ps. we even got to climb to the dome of the Basilica!)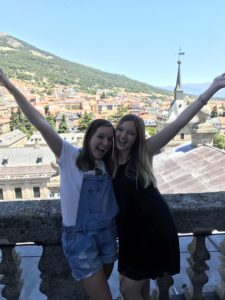 So what would be the overall best part of this trip? Hands down, the people. From conversation partners, to teachers, to the students in the group, I have never in my life been surrounded with so many amazing people. I can already tell the friendships made this month will last a lifetime! I am forever grateful for this opportunity and I will never forget the many memories made here. So, until I return, ¡Hasta luego España!