Leaving Spain was weird for me. I missed my family. I missed my bed. And I really missed my kitchen (the food in Spain just wasn't my favorite). But at the same time, I truly loved Spain. The culture was incredible. Every day was an adventure. And I made so many great friends. So obviously I had mixed emotions as I packed up all of my things and got ready to leave.
My flight left Madrid at eleven in the morning. However, we were staying about an hour away from the airport and many people had flights at earlier times, so we had to leave as a group at six in the morning. Considering all of the travel ahead of us, I knew I was going to be a very long day and I would be exhausted by the time I got home. And wow I was right. The plane ride was very long and uncomfortable, and despite all of my effort, I couldn't fall asleep. It was actually really funny, I ended up sitting next to a man who also went to Alabama and participated in the exact same study abroad program when he was in college! It was really cool talking to him and hearing how the program impacted his life.
After almost nine hours, we finally arrived in the United States. The first thing I noticed was that everything was in English! After speaking almost exclusively in Spanish for an entire month, I felt weird talking to people in English. Occasionally I would say a word or sentence in Spanish out of habit. When the original excitement of landing wore off, exhaustion hit me. So naturally, I went to the nearest restaurant and bought a giant cup of coffee (probably triple the size of the coffee that they give you in Spain). Then I remembered that caffeine doesn't affect me, so I was just as tired after drinking it.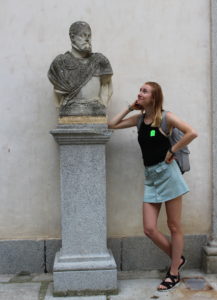 Luckily, I didn't have a very long layover and I was home before I knew it. On the second flight, I spent a lot of time thinking about my time in Spain as a whole. While there had been some parts that I didn't like, overall the experience was amazing. It was truly a once in a lifetime thing and I'm so blessed to have participated in it. My ability to speak in Spanish improved tremendously, and I definitely grew a lot as a person. One of the things that I will miss most is taking pictures of all the amazing places and people that I encountered in Spain. I'm both happy and sad to be back at home, and I know that this experience will stay with me forever. I can't wait to go back to Spain the next time that I have the opportunity.