While the beaches in Barcelona are lovely, they can be quite crowded and chaotic if you're looking for a relaxing day at the beach. Luckily, there are plenty of quiet beach towns just a short train ride away that make for a perfect day trip.
On Friday, June 8, I traveled to Sitges with my study abroad program. Traveling from Barcelona's main train station, Barcelona-Sants, to Sitges only took about a half hour. First, our program coordinator gave us a tour of some of the historic buildings in Sitges. One of my favorite sights was the stunning, old church.
After the tour, our program coordinator left us to enjoy a relaxing afternoon at the beach. My roommate and I searched all over the town for the best sandwiches and snacks that we could find. After our hunt for lunch, we were starving and headed to the beach for a picnic. It was a perfect afternoon. But, beware; the Mediterranean sun is stronger than you'd think! Both my roommate and I returned to Barcelona that night bright red.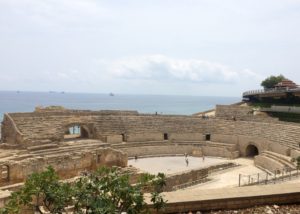 On Sunday, June 25, I visited another coastal town near Barcelona, Tarragona. The town features not only a beautiful beach, but rich Roman history. This is one of the only places near Barcelona where you can still see Roman ruins, including an amphitheater right next to the Mediterranean Sea. I wished that I had more time in this beautiful town so that I could sample tapas from the vast selection of restaurants and bars there, but, before I knew it, it was time to head back to Barcelona.