The Honors College and the College of Business combined their German study abroad programs this summer. The honors students were originally focusing on intercultural studies while the business students planned on studying the economy and touring influential companies like Mercedes-Benz. When our programs combined, our schedule changed to incorporate aspects of both.
Each morning our group of thirteen University of Alabama students meet for a reflection. Our professor, Dr. Herwig, teaches us new phrases in German and we go over the schedule for the day. It is very helpful to practice speaking German with a native German speaker because the sounds are much different than the ones I am used to using in English or Spanish. As a group we also go over a little bit of the history of the places we will be visiting that day.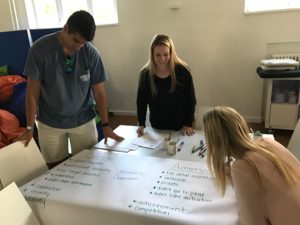 Its easy to forget we are graded for our academic performance on this adventure. Each of us is required to keep a journal recording the daily events day of our trip. We tend to write them on trains as we travel between cities. Another one of our assignments is posting to the group blog. Each person is assigned a day to write for our class blog and upload some pictures. While abroad we are graded on two separate presentations. Before we departed for Germany we were split into groups and given a topic to present to the students and professors at Karlsuchsuche International University. My presentation was on the history and political climate of Alabama. It was a great way to introduce ourselves to the German students and show them where we come from. Our final presentations will be on the last two days of the trip. Each group will give a presentation about a specific leg of our trip. We are required to include a visual element so we have been taking lots of videos and pictures along the way.
I have enjoyed our interactions with German students throughout the study. In Karlsruhe we attended two lectures and a cultural workshop with the German students which gave us an opportunity to hear their perspectives and share ideas. They are very skeptical about American politics, especially President Trump. The German students did not shy away from asking difficult questions and our conversations always had depth. In Berlin we attended a day of class at the JFK Institute. I was able to sit in on a class about theorizing culture and NATO.  As in Karlsruhe, the German students engaged us in political conversation almost immediately.
Overall, the academics have been a beneficial part of my study abroad experience. The journals have given me a time to reflect, I have learned about the rich history of Germany, and I have had the opportunity to engage in conversations with people from around the world. I will continue to journal while I travel abroad independently and use the conversation skills we have learned in future endeavors.