So far my time in Ireland has been an incredible experience. Not only have I met many new people and made many friends but I have been able to see places that I never thought I would be able to. Over the past few months I have been taking advantage of my time in Europe and have traveled to places such as Austria, Germany, and Greece. Dublin is where I have spent most of my time and by now the I finally feel at home in the city. I have grown to enjoy living in Dublin and know I will always remember my time here fondly. Dublin and the entire country of Ireland will always be one of my favorite places due to all the great experiences I have had here.
Beyond Dublin I have been able to see some of the most beautiful places in the world. Vienna is one of the most architecturally incredible cities in Europe. It boasts some incredible palaces and history that cannot be seen anywhere else. Berlin is another place full of history. There is so much to do and see in Berlin that I am already looking forward to going back to experience more. Athens was another place that I was lucky to be able to visit. The culture in Greece was unlike any place I have ever been. Along with that, seeing the Parthenon and other Ancient Greece remains was another truly stunning experience.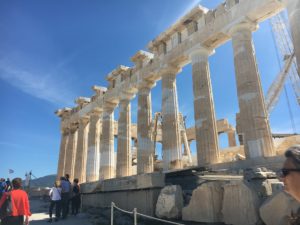 Along with all these trips and experiences I am currently working on finishing up with my courses here in Dublin. I look forward to seeing what else the semester has in store for me as exams come and the semester finally ends. I hope to continue seeing and doing things that I studying abroad in Europe has made possible for me.