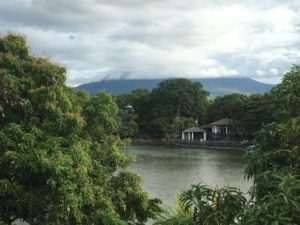 Today was the first "full" day of my Nicaraguan Clinical Experience, and I could not be more pleased with my experience thus far. I began the day around  6:20, but it most certainly did not feel the least bit early. The host house had already been alive for a few hours and I was as equally as energized for the day ahead. For breakfast, I had a Nicaraguan omelette with a side of papaya, banana, dragon fruit, and melon (not to mention the fruit juice and coffee as well). And, let me tell you, the fruit here is amazing. It is some of the freshest fruit I have ever had in my life.  After finishing breakfast and saying good-bye to our host mom and her chihuahua, Luna, my roommate and I headed to the clinic.
My first day in the clinic was great. I took blood sugar levels of the diabetic patients and helped administer shots of insulin to those that needed it. Then, I helped the pharmacist by divvying up different types of pills into the quantities he wanted. But even more so, I met some wonderful Nicaraguan people. I met a 9 year old boy named Pedro that told me that after sitting for hours in the clinic with his mom and sister, he was going to have to take a 2 hour walk home to where he lived in Nandaime from Granada. But, it did not bother him in the slightest. Rather, we talked about the baseball team he plays for, who his favorite player was, and what he wanted to be when he grew up (a doctor-by the way). Talking with him was definitely a highlight of my day. After finishing up in the clinic, we went to our respective houses and ate lunch (for us, Nicaraguan spaghetti with sides of bread and avocado- another great meal). Afterwards, my roommate and I explored Granada some and stopped by a cafe before our excursion.
Today, our excursion was to "Las Isletas", collectively named as there are more than 366 of them in the Granadan Lake. We boated around the islands (and got off on some of em) as our 3 guides told us facts about the islands. Some of the most interesting islands where Monkey Island, where the monkeys physically boarded our boat, and the 3 islands owned by a Nicaraguan soap and newspaper tycoon. The lake was beautiful and very peaceful, and the perfect way to end a busy day.
I apologize for the step by step happenings of my first full day here in Nicaragua, but it was so full I felt there was no way to summarize what happened on my first "full" day without doing it an injustice. I promise to be more brief in the future. For now, I am keeping my all of my Nicaraguan doors open and trying to sink my teeth into any experience than I can.