While the buzz of life on campus restarted, while my friends started filling their agendas and while others studying abroad started taking off for their adventure, I have been stuck in a weird kind of limbo.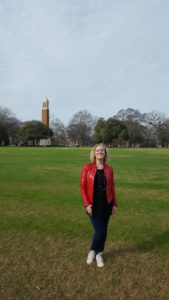 As a future exchange student at the Queensland University of Technology in Brisbane, Australia, my semester does not start until the end of February. Due to Australia's cozy position in the Southern Hemisphere, their seasons are flipped and their semesters do not align perfectly with those in America.
I have stayed in Tuscaloosa in order to work and spend as much time with my friends and boyfriend as possible. Not only will I be leaving for another country, but I will also be leaving Bama behind for good.
This is my last semester as a journalism major getting an undergraduate degree. I have been fortunate for this to be my second semester-long study abroad experience and my fifth international trip through the university.
Part of me–the part starting to get nostalgic–wonders why I decided to forego my last semester with the Crimson Tide and give up walking at graduation to stay in Australia through June. Then the louder, more passionate part of me laughs as I would always much rather be exploring a new corner of the world if given the choice.
Previously, I studied abroad in Morocco to study Arabic. The experience was eye-opening and amazing, but hard. I discovered a lot about myself, albeit a lot of negatives. I felt stripped of every basic comfort and while I would not give up the experience, nor do I regret getting the opportunity to explore the wonderful land of Morocco, I wished for a study abroad to help me discover different parts of myself and gain experience more aligned with my career aspirations.
My plans for the upcoming semester including writing classes and an internship still seem like a foggy dream as I sit in the pre-departure limbo. Packing a month ahead of time seemed  difficult as most of the clothes I want to take I needed to wear. Without classes, I have binged more TV shows than I care to admit instead of researching possible travel destinations or budgeting.
Now, I have a week left before leaving limbo and taking off for Australia–and I can hardly process it. This last week has started a panic as I have felt that I don't have enough time, even though I had a month. My to-do list I made in December still has items that have not been crossed off yet.
My advice for anyone studying abroad (and I even knew this but caved into my addiction to Netflix) is to start early. Go ahead and call the bank to say you will be using your card abroad. Go ahead and get any prescriptions you'll need as most likely you will have to play phone tag with doctors, pharmacies and insurance officials to get enough if you are staying abroad for several months. Go ahead and set aside clothes you can do without.
If you have a long period like I have had before leaving, I also suggest you take time to reflect. I have walked onto the quad and sat on the steps of Gorgas to absorb the sights, sounds and smells of the university. I ate at Rama Jama's and walked along the River Walk. Try to imprint as many memories as you can before you leave, because even if you aren't graduating, you will be amazed how easy it is to forget and how nostalgic you can get. Then, when you return shaped by your experience, the foreign familiarity of Tuscaloosa and campus is fascinating.
I know I will be fine even though I may not have done everything I thought I would do this past month. I discovered too late during my last study abroad key advice: Expectations and comparisons can ruin a study abroad. I am trying to keep this close to heart as my expectations for my host family in Morocco were badly met and I kept comparing the awesome stories I heard from classmates. All it did was make me feel bad about what I did experience.
This time, I am keeping my imagination quiet and all I can do is shrug at the unknown adventures awaiting me as I wait in limbo for my time to leave.