Studying abroad has always been on my radar ever since my older sister studied in London a few years ago. She had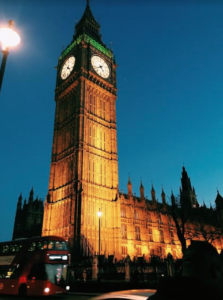 the time of her life traveling and meeting new people. I knew it was something I really wanted to do. Since I was  technically on track to graduate a semester early, it made even more sense for me to study abroad as well as intern abroad. After receiving my placement in a London fashion public relations firm I could not help but be nervous. I had interned prior in New York however I had also grown up around New York. Needless to say I was nervous however also excited. I kept wondering what my work environment would be like, maybe Devil Wears Prada-esque simply with British accents? I spent the weeks before my departure researching my company and the brands they represented. By familiarizing myself with the company and what they do it made assimilating to their work environment that much easier. As for goals throughout this internship it was simply to learn. I wanted to be a sponge and soak in as much information as I could about fashion public relations, London, and the industry as well.
Even though I was interning abroad, I was also taking classes at the London College of Fashion in their Fashion Business program. I think I was less nervous for these classes simply because this is my passion. I was excited about the classes I was enrolled in and even more excited to surrounded by such creative and inspiring individuals in one of the top fashion programs in the world. Overall, you can not help but be nervous before you go abroad, but what you can do is get excited. Research where you are going and try to know what to expect, but also be open to trying new things and learning about your new home for the next four months.