The decision to study abroad for me was always a no brainer. However, the timing of my decision came a surprise to me. I always dreamed about going abroad my junior year of college, but these plans changed suddenly when one day I sat in my car and felt a calling to do it now! I followed my heart, emailed the study abroad office and made an appointment for the next day. The rest is history, and Florence Italy is now in my history.
The next task is deciding how anyone can pack for five months with only 2 suitcases (this is the recommended limit)?!?  Especially if they're a professional over-packer like me..?? Anyone who knows me would laugh if they heard that I (of any people) had to do this. Well now after many hours of packing, My whole life is jammed into two small squares. Both of my bags weighing more than a large child, and I'm pretty sure all of that weight is coming from my shoes…yes okay I have a problem;) Needless to say, the two suitcases shut…so Im happy. Enclosed is (probably) too many clothes, toiletries, photos of family, and the most important my passport/visa! Couldn't get anywhere without it! As I prepare to leave for this four month journey, I'm trying to keep an open mind. While many emotions float through my head, overall I feel no nerves. I feel a sense of peace and assurance that this is going to work out for me. This will be the longest I will go without seeing my family and friends in my entire life. This usually would make my heart drop but I know this is only temporary, a once in a life time experience, and there are only good things waiting for me. The world is my oyster.
My hopes as I embark on this new season of life is that I meet new, diverse and interesting people/friends from all walks of life. I want to be accepting of them all and learn from them. Next, I hope that my random roommate situation works out alright. That can always be intimidating, but I'm hoping for the best. I also hope to try new things such as cultural experiences, traveling around Europe during my spare time, explore the in and outs of Florence, meet locals and watch how they live, and become a local myself at a cafe. I would also like to see as much art as possible while in Italy, but especially Florence. I am an art history minor with a deep passion for art history, especially the Renaissance. Where better to do this than in Florence?!?! So I hope to visit all the major landmarks and infamous museums during my time. Lastly, my main hopes and goals for myself while studying abroad is that I can come back to America with a new perspective on gratitude, being in the moment, and the life that I have.
Wish me luck as I travel to the other side of the world!
Until next time…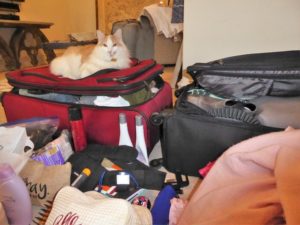 -Alex Willis