On the 2nd weekend of the Denmark study abroad program, we took a trip to Frederiksborg Castle, which is located about an hour north of Copenhagen. The architecture was amazing. The fact that I was walking through the very halls that actual kings and queens had also walked was amazing.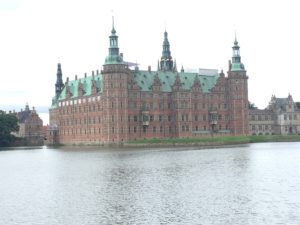 After touring the inside of the castle, we toured the gardens. The gardens were just as amazing, consisting of hundreds of acres of perfectly trimmed flowers, bushes, and trees. After the castle, we toured the quaint town of Hillerød.
There we saw a dollar store, which had the cheapest priced items I had seen in Denmark. Denmark is a great place to study abroad, but I have found it to be very expensive. It is definitely more expensive than the other countries I've been to in Europe. However, eating cheaply is doable. It just may consist of eating a $1 Burger King hamburger every night.