So, here I am again post-study abroad, writing blogs after the fact. They seem like such an easy thing to keep up with when heading off for your trip, but let me tell you for the SECOND time, I am behind again. For one, It is so easy to lose track of everything when you are immersed in a new place for a set amount of time. I left for my second study abroad trip about two months ago on May 8th. Last year, I went to Ireland and Turkey for three weeks for the International Supply Chain and Business Analytics course, and obviously I wouldn't be back for round two unless if I didn't love it. And when I say round two, I mean I came back and took the same course (now the graduate version) over again. This time we went to Ireland and Germany. There's no way I could pass up that trip! And once again, I was supposed to write blogs and had to make them up afterwards.
But don't worry, that's the easy part because these study abroad experiences are hard to forget.
To get on with it, it's May 8th and I'm boarding a plane with one of my best friends (again on the trip for the second time, you think we planned that? 🙂 ) Obviously, I did not learn from going on this trip the year before because I showed up with a checked bag already at 52 pounds. They will tell students to plan ahead and pack light for these trips because obviously you will buy more things, and for the second year in a row, I didn't listen to them. Don't make my mistakes. After a long layover in Atlanta, we started our 9.5 hour flight to Dublin, Ireland
We land at about 8a.m. on the 9th and are jet-lagged beyond belief. We (me, my friend and about 7 other early birds) arrived a day before the class actually started just to load up on the Irish experience. We made our way to the hotel and had a rough rest of the day trying to stay awake. That didn't stop a couple of us from falling asleep at the pub. We actually just explored the area around our hotel and called it an early night. Still a great first day!
Day 1 of the actual trip:
The rest of the class arrives and we have a two hour walking tour at 2p.m. The rest of the gang was not super pleased with the idea, but hey I got a full night of sleep so I was good! We walked around seeing amazing sights like Trinity College, City Centre, and the ever famous Molly Malone statue. It was not quite the most eventful day, as we had to give the rest of the class a break from their jet lag. We ended the day with dinner at Farm, an awesome organic restaurant and most of the class headed back to get some sleep. That didn't stop a few of us from enjoying a Guinness at one more pub before we went home though!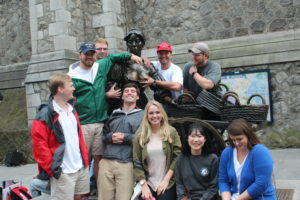 All in all, it was great to be back in Dublin.