안녕
Sitting in a coffee shop in the middle of Seoul and finally realizing that in exactly a month, I will be back in Alabama, is filling me with nothing but sadness. It seems impossible that four months have already passed of my study abroad experience, and it is now coming to an end. Before I left America, I knew I would have a good time in Seoul, but you can never truly know what to expect until you are actually emerged in the city and its culture.
When considering study abroad destinations, most people are drawn towards European countries such as France, Italy, Ireland, etc. While I would also like to visit those countries later in the future, I think more people should consider studying in Asian countries as well. Seoul being the capital of South Korea is comparable to most large cities across the world such as New York City, but at the same time doesn't lose its sense of culture and individualism.
First thing I will miss about Seoul is the transportation system. Seeing as Korea is very small, the public transportation system is great- cheap, simple, and clean. Even for foreigners who may not be necessarily fluent in the Korean language, the country is very accomodating of english speakers, which makes everything comfortable.
Second thing I will miss is the coffee shop culture. With a huge city and population (10.01 million!!), there is a large demand for places to just go and meet up with friends. So along with restaurants, bars, and karaoke rooms, there are multitudes of coffee shops on every single street. The types of coffee shops differ as well, ranging from dog cafes and cat cafes, to study and book cafes, from outdoor and rooftop cafes, to plant and gallery cafes. With all these choices, one can literally never be out of options when trying to figure out where to hang out with friends.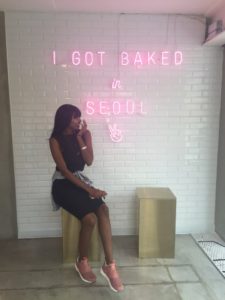 This past week, colleges all over Korea had their annual school festival, where for three days, school clubs showcase their specialties, and raise money for their organizations by selling snacks, foods, and drinks, with a huge concert on the final day with a setlist of famous musicians. I joined a band with a friend of mine when I first arrived, and I actually performed in front of a crowd on one of the days which was huge for me, seeing as I'm not a very good singer! Anyways, the final concert- Akaraka- was a huge sight to behold, but still held similarities to a Saturday at Bryant Denny Stadium. Everyone came out in our school colors (blue and white), and we were then led by the cheering teams in a tirade of school fight songs that each had dances that went along with them. Thankfully, my club mates helped me as I was clueless to the dances but it was a great time full of laughter and comradirie. Definitely the highlight of my student life here.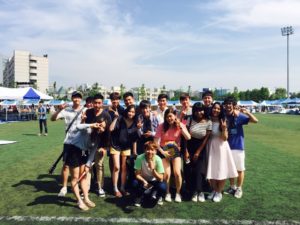 (Band Club mates)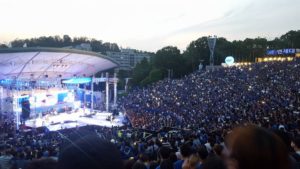 (School Festival)
With a huge to-do list left before I go back to America, I will definitely be making use of my last month here. Where is the pause button?
안녕