After I landed in Madrid several thoughts passed through my head. To start Madrid was huge but I wasn't tall. When I think of big cities in America I usually think New York or Chicago style cities but here it seems cities are more spread out and less tall. After spending a day in Madrid I took a train to Pamplona where I would be spending most of my time here in Spain. The first night in Pamplona I met my housemate, another student from Alabama, and also our house mom, a local. We ate dinner early because she knew it would take awhile for us to adjust. Early meant 8:30. Now that I've spent a couple of weeks here I've been surprised at the time of the meals and also how long it takes. For example every time I've eaten out here it's taken at least an hour and a half and when we eat at home it often takes two hours.
Pamplona is the capital of one of the regions of Spain and as such it is considered pretty large. It's an ancient city in northern Spain close to the border of France. One of the things I love most about Pamplona is the surroundings. Within minutes from downtown you could be on top of a mountain. On one side you could have the heavily populated city and on the other farmland.
I've been able to take several excursions from Pamplona to places like Bilbao, San Sebastián, and Barcelona. In these places I've learned about Basque Country and Cataluña two areas of Spain that are largely different. I saw the Sagrada Familia, which was one of the most amazing places I've ever seen. I also took a day trip to a small village in France.
The locals in Pamplona, are extremely nice people who go out of their way to help you. Most of them don't speak English but I really haven't had any problems with communication. The same can not be said for the people of France. Even though the village I visited was on the border of Spain, the French expected to be spoken to in French and took major offense to English and mild offense to Spanish even if they spoke both.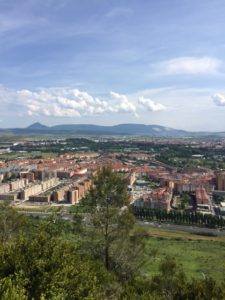 Classes here are pretty chill. The other students from Alabama are great and we all have a good time messing around in class or exploring Pamplona after.
Although I've been here for almost five weeks I really don't think I'm ready to leave. Even though Spain is smaller than Texas it has so much to offer and I feel as though I've hardly seen any of it. Coming here I only brought a backpack and a suitcase but going home I'll have an extra suitcase due to all the gifts I've bought. I'm going to miss the language and the culture here lots.