At this point in the trip, days start to blur together. Life on a study abroad trip is a whirlwind, but one that you never want to end.
We had a total of ten days in Dublin, Ireland and we jam packed as much of it in there as we could. On day two, we had to have a class day at our host college, University College Dublin (Yes, we actually learn a lot on these trips). We talked about Excel, Tableau, R and our case competition that was coming up against Texas A&M in Germany. We finished off that day by going to our Welcome Dinner at Brazen Head, allegedly the oldest pub in Dublin (they all say that). We got a five course dinner and listened to the folklore and legends that make up the Irish culture. Not to mention, got to listen to some of my favorite Irish music.
Day three was actually a half day of class. Again, more learning. Then we had our classic Jameson whiskey tour, always a good time! The class did not waste time hitting up the gift shop. Besides that, we got to see all the processes that go into making Irish whiskey and learned about their supply chain as well! We finished off our night with some free time to explore and then the entire class went on a haunted tour of Dublin. The tour guide was definitely a character, and it might have been a little too theatrical and tourist-y for us, but it was still a fun night! Day four was more touring of the city. We went back to Trinity College and saw the "Harry Potter" theater, apparently the one they modeled the movies on! It was amazing to see the college, and we even spent time hanging out on their quad, trying to blend in with the locals 🙂 We spent the rest of the day catching up on shopping, which never disappoints!
Day Five was probably my favorite day in Ireland, both years combined. We went on a bus tour that took us out past County Clare and Bunratty, all the way to the Cliffs of Moher. For people who have never been, it is definitely a must see! The cliffs are enormous and the day was perfect. Most of the time was spent there taking pictures and laughing while trying to climb a castle and I wouldn't take it back for anything! We finished the tour by going through the Burren, which is this really interesting, really flat portion of land that is made up completely of limestone (I think that's right). It was unlike anything I've seen before.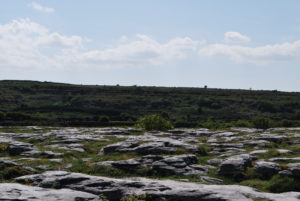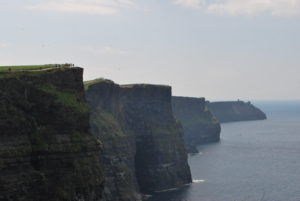 Day Six and Seven went by so quickly because of all the things we ended up doing! We started off by going into Kilmainham Gaol, the oldest jail I believe in Ireland. We weren't able to go on a full tour, but I did last year and it was just as cool! The rest of the day we went and toured the Guinness Storehouse (how could we not?) and Teeling Distillery. I had been to Guinness last year and it was the same, but nonetheless an awesome time! However, Teeling Distillery was something new for everyone! It is the only whiskey distillery that is left in Dublin (Jameson is in Ireland but moved from Dublin years ago). It was amazing to see the actual place where production takes place. It was by far my favorite tour in Ireland. Day Seven was actually our day tour to Kilkenny and Waterford with our favorite Irish tour guide, Mathew. We explored the entire city of Kilkenny, walking through churches and walking down their narrow streets to find little treasures within the city. From there, we moved to Waterford to tour the Waterford Crystal factory. Again, this is something we also did last year, but I will never stop being amazed at how the masters can sit there and cut crystal by hand with ZERO mistakes! Truly an incredible process. After that, we made our way to Glendalough, which means a lake between two valleys in Gaelic. We basically stopped for photo ops, hiking and some ice cream. The views there are an understatement. We finally made our way back to Dublin, playing Heads Up the entire way.
Day Eight had to happen… it was our class case competition. Somehow we had all managed time to get papers written and PowerPoints made with everything that was going on. We had to fit in class somewhere! That night though, the Doc (our professor) treated us to an awesome dinner at a refurbished church turned restaurant before we had our class pub crawl. Needless to say, we got the bar to sing Sweet Home Alabama. And that finished our last real night in Dublin. Our last day, we all had a free day, and my friend, Jen, and I traveled to cultural capital of Ireland, Galway (awesome city, worth the trip). We finished our day with our Farewell Dinner with Irish dancing. And then, all of the sudden, the Ireland portion of the trip was done.
Off to Germany!