This was it. This was the part of the trip I had been anticipating for months! I was finally going back to Germany. I hadn't been there in almost 1o years, and here I was getting to go to Berlin and Munich! On May 19th, we packed our bags and headed to the airport early for our flight to Berlin. Finally, after getting 22 people's bags checked and hours of waiting, we finally were boarded and ready to go!
Berlin, from the very start, was incredible! I had actually never been to this part of Germany so I was trying to take it all in. We got to our hotel, surprisingly tinier than I remember these European hotels being. I guess we were just spoiled with our Ireland hotel! Then we went on a hop-on/hop-off tour, the kind of double decker buses you are used to seeing in big cities. It was actually pretty awesome! Yes, we were a bunch of American tourists, but it was a great way to start off getting a glimpse of the city. We were able to see parts of the city like the old and new Olympic stadium (the newest one being the location of the DFB final that was happening in 2 days!!). That day ended with our Welcome dinner, where we met up with Texas A&M, a little reluctantly given our football history. Surprisingly we had dinner at a Turkish restaurant, complete with a bellydancer. I would have never guessed how much Germans loved Turkish food.
Day 2 in Germany began with a four hour walking tour of the city. It sounds not that awesome, but it was an amazing tour. Our tour guide knew her stuff and took us to many of the biggest landmarks and memorials in the city. We saw where the royal family entered the city (the West side of Berlin), where the Berlin wall used to be as well as the remaining portions of it, Gypsy memorials from WW2 and the Jewish Memorial. It was nice to know how much the city of Berlin, as well as Germany as a whole, takes full responsibility for their destruction during WW2. It was a sad part of history, but the city has definitely put a lot of time, money and effort into giving back and saying sorry, if you will. We were given the rest of the day to take on the city on our owns, which we fully took advantage of! That night about 8 of us went to the DFB final public viewing. Easily, one of the best nights of my life! We had a blast cheering on Dortmund with 14,000 of our closest friends!
Day three was yet another tour! We only had a very limited time in Berlin and we had to see ALL of it! We actually traveled to Potsdam, where we had a walking tour of the palaces there. Potsdam was essentially the equivalent of Versailles to France. This is where all the royalty lived and we were able to tour all of the grounds as well as the quaint downtown area! It was a long day, and by long, I mean over 15 miles walked. But hey, who else can say they got to do that this summer! Day four in Germany was actually when we traveled to Mercedes to tour their entire facility. It was really interesting to see what all went into making the vehicles. In Tuscaloosa, we are used to seeing all the cars being assembled to their final product. In Berlin, they specialized in making the engines and transmission for the cars, which would then be shipped to all the places that assemble the final vehicles. Again, really cool to see! We finished that night off going to dinner and dancing salsa music of all things!
Day five was traveling day. And a jam-packed one at that! We got on a bus at 8 in the morning en route to Munich! Although, we had to make two pitstops along the way for facility tours! We were able to see Volkswagen's transparent facility in Dresden and the Meissen porcelain production facility. Needless to say, we were exhausted when we finally got to Munich at about midnight that day!
The next day we went to the transportation museum where, yes, we saw a bunch of cars, but also played with the slides and legos meant for the children. Good times. We got our first authentic German lunch and then headed to the BMW production plant for our tour. Let me just say that their facility is unlike anything I've ever seen. The entire experience there was amazing!
Day seven in Germany was actually our case competition against Texas A&M. Yes, we won first place, thank goodness! That could have put a damper on things! Then we continued on to our walking tour of the city! Our last real day ended with another production tour of Erdinger Weissbier which was so much fun! They fed us beer, sausage and pretzels at the end. Not to mention, their distribution process was one of the coolest things I've ever seen! We finished that day with another tour, this time at the Dachau concentration camp. I had actually been there when I was in Munich before, and it was just as moving as it was all those years ago.
Our last day in Germany, and last day of the trip, was our free day. I and a few other friends traveled to Neuschwanstein Castle. It was so cool to go inside for the tour. We also got to paddleboat on the lake before we headed back for our Farewell dinner.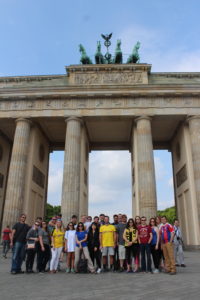 All in all, this is one of the best experiences I could ever ask for. You make friends, both from the University of Alabama campus and internationally. You learn more than you ever thought was possible and you see the world! I would not give it up for anything, and who knows maybe I can figure out a way to go one more time this next year!