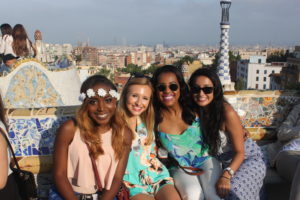 One great thing about studying abroad in Europe is that there are so many amazing places to visit that are all just a short plane or train ride away. Last weekend we took a weekend vacation to Barcelona, which was a nice break from all the rain that we've been having in Paris.
We've been talking about going to Barcelona for awhile, but this was truly a last minute trip. We book our plane tickets and rooms on Wednesday after class, and then packed our bags to leave for the airport after class on Thursday!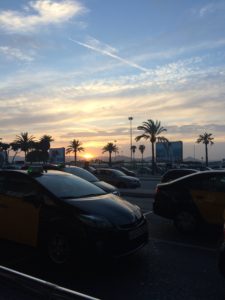 We arrived in Barcelona right at sunset on Thursday. We asked the taxi driver to take the scenic route to the place we were staying at, so we got to drive through all of the cliffs! We stayed outside of Barcelona in a nice house up in the countryside of Sitges. It was a gorgeous view outside from our balcony!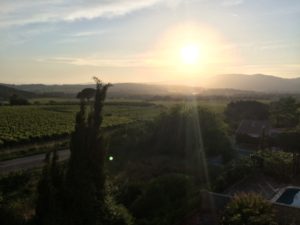 On Friday we started the day at a beach in Barcelona. It was great to be able to relax after being in Paris, where city life (and classes) can be stressful. We even got to meet up with a friend who was staying in Barcelona, too!
After relaxing on the beach, we walked around to explore parts of the city and grab lunch. It felt like being on vacation!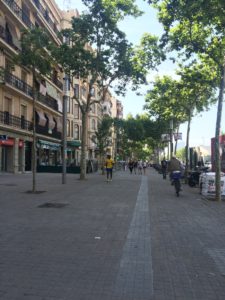 The rest of the afternoon we went shopping around in the city center in a huge shopping mall. One thing that I love are the different clothing stores that are in Europe. We found some typical American stores as well, but I loved going into the stores that we won't be able to find again once we are back in the states.
The following day we started early to take a bus tour of Barcelona. We started at 9 a.m. and didn't finish until the bus closed at 9 p.m.! We started off on one bus route while it was cloudy and stayed on for most of the time, taking in all of the scenery. After taking a break for lunch a little bit of shopping, we got on another bus to see more of the city.
We had some amazing views from our bus!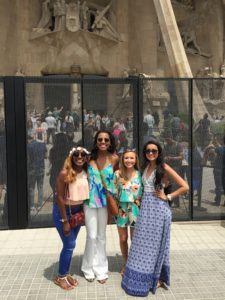 We got off at La Sagrada Familia, but unfortunately it was sold out for the day. We were a little disappointed since we had really wanted to go inside, but we still got to see it from the outside and got some ice cream to cheer us up.
We continued our travels at Parc Guell, which is a famous park in Barcelona that we had been wanting to visit. However, the park was at its maximum capacity of 400 guests when we got there, so we had to come back later in the evening when it wasn't as full. When we finally got to see it it was worth the wait!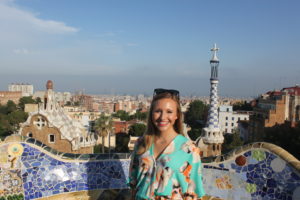 For dinner we went to a cute restaurant on a side street. The food was very good, but we were all pretty tired after such a long day! All in all, it was a great trip.