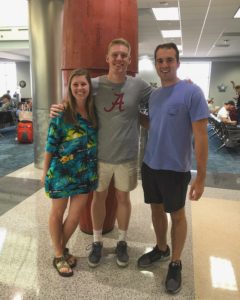 Prior to this trip to Haiti, I have been to Haiti twice before, once through this study abroad program in December and last May (2015) with a small group of students to scout for the eventual founding of this program that we like to call Haitian Economic Research & Development (HERD for short). My involvement with this program and these experiences has taught me so much about others and myself and has rewarded me with so many amazing friends.
The preparation that has gone into this trip has far outpaced the preparation of the first two trips as the group has gained a much better idea of what exactly it takes to go into the trip to be successful. All semester long, groups have been working on various components of curriculum that was agreed upon earlier in the semester. Through vetting of curriculum and subject matter, an ultimate curriculum plan and outline has been formed for the trip.
As anyone that has been on this trip before knows, though, nothing ever goes completely according to plan in a rural village of a developing country. Flexibility and resilience have been the two most important traits of people that have been on this trip, and this trip will be no different for sure. We will be attempting to teach a group of Haitians from the Gallette Chambon community and surrounding communities about business fundamentals while simultaneously attempting to advise and start up the processes of new and existing businesses of those participants in the class.
Stay tuned for updates from our trip!