When I first arrived to Paris, France I was definitely the ideal tourist. I had my phone out at every moment, gazing at the beauty of the city, making sure to capture every aspect. I was beyond ready to indulge in the French culture. I must say that I wasn't too nervous, I was simply just excited and ready to hit the ground running because I knew that I wouldn't have much time to spend here. When I first arrived I wasn't able to get checked into my hotel until 5 hours laters, so a group of us went to eat at a cafe near by where the waiter did not care for us at all and just ended up returning to the hotel and slept on the couch until it was time to check it. To continue, interestingly, the first picture I took abroad was at the airport of the handicap sign on the bathroom. It looks quite different from those of the United States and I'm a blogger, so I figured it would be fascinating to put there.

The things I love most about Paris are definitely the food and how fast it comes out. You can order a meal and it will be in front of you within 15 minutes or less. That is what I will miss the most. Furthermore, the study part of abroad no one tends to care for, but I have throughly enjoyed my classes so far. My professors make it very interactive and fun. Luckily, my classmates are the same students I traveled to Paris with and our professors are from UA. There wasn't much of an adjustment, it was just like having class at UA just smaller and in another area.
By the time I leave Paris, I can say that I have seen just about every cultural aspect the city has to offer. This includes traveling to the top of the Eiffel Tower, climbing up Sacre Coeur, walking amongst the roughly 2,000 acres of Versailles, attending church service at Notre Dame and visiting the Louvre, where the famous Mona Lisa painting is held, just to name a few. Majority of these trips I went with my classmates and a few special ones our professor and his wife were kind enough to take us. Before I leave I still want to visit the coast, London and see the Alps of France. I picked all of the things France is known for and branched out to see more than just the scenery that Paris has to offer in order to get a better feel for the country and its beauty.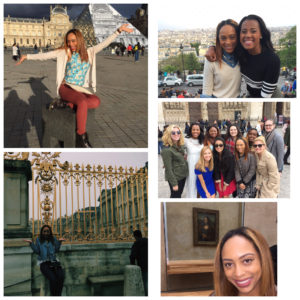 Honestly, the locals are not that friendly. They don't care for Americans especially is you're not fluent in French. I didn't meet any French people unless it was not a fun encounter. It is hard to ask questions about food, where to go or how to find something in the store. One time I tried to ask for sunscreen and they directed me to where the soap was. It was awkward, I just acted like that was what I wanted so I didn't make her feel worse. She was already frazzled.
So far is Paris I have seen beautiful architecture, speed limits of 100, no lines to divide the street, motorcycles ride on sidewalks and fashion out of this world. I have tasted amazing food and on very few, I mean very few, occasions not so good food. Everywhere I go I hear cars honking, all of the time, along with the smell of cigarettes everywhere. But, overall, I feel content and happy with my stay so far.
I haven't taken any step to get ready to get home yet, but starting this week I will be packing all of my things up in order to see how much space I have left, if any, in my suitcases. I have purchased a lot of clothes and shoes for myself, and many souvenirs for my family and friends. By the time my journey comes to a close I will be ready to go home, I miss my parents and my dog extremely. I am overjoyed and blessed to have indulged in such an experience and have memories that will last a lifetime.