It's been an incredible month that I will definitely savor for the rest of my life. While I've had the chance to study abroad previously with a university affiliate, studying abroad with my fellow schoolmates with UA Honors in Germany gave me an experience that was unique and worthwhile. While my previous program was great, it was refreshing being with students who I'll see again after the trip. We learned together, laughed together, and occasionally got lost together. This type of community is something that I didn't have for my previous study abroad.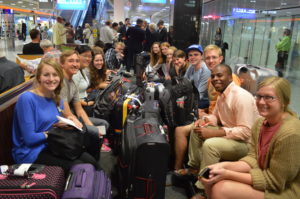 From Karlsruhe to Munich to Hamburg, my experience in Germany has taught me valuable lessons about people, culture, and the world. It seems like the more of the world you experience, the smaller you realize you are. At the same time, as I've traveled more and more, I've realized that people generally are more alike than different. Every country has its strengths and weaknesses, and this is certainly true for Germany.
One of the unique things about studying abroad as opposed to learning in a traditional classroom is the ability to see firsthand the marks of history. I've learned about the Second World War countless times, but it was a completely different experience being able to see bullet holes in bridges around Berlin that still remain from that period. I was always amazed at how much history we would see in unexpected places. It added a depth to my learning experience that wouldn't have been there otherwise.
My journey helped me realize just how much I love learning and experiencing new people, places, and cultures. I could not imagine my college experience without the great study abroad opportunities that I've been able to participate in. I plan on doing everything I can to continue to encourage my schoolmates to study abroad. It's an opportunity that shouldn't be missed!