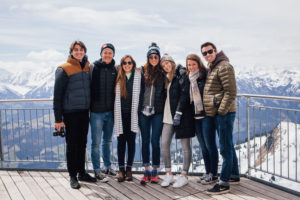 And just like that, it's over.
The day I've dreaded is here, taking me by the hand, yanking me to a place I don't wish to go.
I write this with a cloudy mind, misty eyes, somewhere over the Atlantic.
I write this with an inexplicable heaviness, burdened by the weight of too many goodbyes.
I write this with a deep fear, as well as a profound hope, that I will never be able to return to the life I knew before I sat down on a plane one January afternoon.
I write this with a full heart, a new mind, and a satisfied soul. Full of love, life, confidence, adventure, hope, culture, and magic.
I write this as myself, whole, fully me, for the first time in a while.
I write this with a simultaneous recognition that there will always be more pieces of myself to find in unexpected places.
I write this as the member of countless new families, chosen rather than assigned, forged by experience rather than blood.
How do I begin to describe what these people mean to me?
How do I explain how the streets of Seville shaped me?
How do I pretend that the stories I tell will encompass my months?
So, if you ask me "How was it?" and I reply "great," or "important," or "so fun," I beg of you this: understand what I mean to say, what I cannot say, is that it was absolutelyeverything. That it was breathtaking and beautiful and difficult and the most rewarding experience I have stumbled upon.
I beg of you – understand that I am more me because I lost myself in these cities, in these streets, these laughs, these faces. Understand my world did not just shift, but also flipped upside-down and turned inside out. I have changed in ways I can explain and others I cannot.
I return with the realization that languages are the most beautiful barriers, but they must be broken.
With the knowledge that heartbreak can happen anywhere; pain knows few boundaries. But more importantly, love knows no boundaries, and healing is choice available regardless of location.
With the recognition that new places and new people don't fix you, but you can always fix yourself in the presence of new people in new places.
With the appreciation for the blue skies I found and the understanding they were within myself all along.
I am empty because I left myself in Sevilla. I am full because I found myself in Sevilla.
And Cádiz. And Madrid. And Chipiona. And Lisbon. And Extremadura. And Thun. And Tangier. And every other city I stepped in. And the hugs of Mamá. And the joy of my friends. And my morning coffee and my afternoon tea. In crowded metros and solo walks. In countless maps and hopeful wanderings. In wholesome conversation and cross-cultural friendships. In the new ability to connect with people who speak, act, and live differently. In gin tonics and red wine and swing dances at the top of mountains.
And in myself. I found myself buried beneath my own rubble and learned to put myself back together again.
So when I tell you, "It was good," please know it was good.
And it was so much more than that.