Granada, Nicaragua looks gorgeous in any pictures I have googled, but I am still unsure what to expect when I get there. I know the buildings are painted in bright colors and air conditioning is nonexistent (cannot wait for 100 degree temperatures), but that is it. I know that very few people speak English, so I am praying my Spanish magically improves the second I step off of the plane.
I will be in Granada for two weeks working in a clinic founded by doctors in Birmingham. Every morning I will be in the clinic with 5 other students until lunch time and then we have excursions and Spanish classes in the afternoon. I am excited for the hands-on experience I will get in the clinic and being able to interact with patients. I am also looking forward to the excursions- climbing a dormant volcano, going to the beach, seeing an active volcano, and many more activities.
I didn't pack that many clothes because it is hot there so it doesn't really matter what I look like. In the morning I will be in scrubs and in the afternoon I'll live in nike shorts, t-shirts, and chacos (sounds like my regular going-to-class attire). At my mom's request I packed 2 bottles of sunscreen and 3 cans of bug spray (probably way too much but we'll see). I also exchanged $100 for Cordobas, the Nicaragua currency. The exchange rate is really good right now – 28 Cordobas for $1. Hopefully I don't forget anything too important and have a great two weeks in Granada.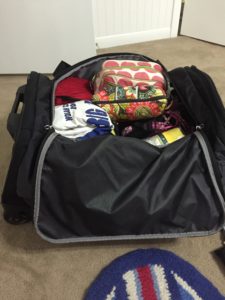 All packed and ready to go!