Now that I have made it back home all safe and sound, I am very appreciative of the the air conditioning here but sad that I had to leave such wonderful country. It was so nice to leave my bustling, fast-paced lifestyle in the US and slow down to appreciate the people and culture of Nicaragua while learning so much about myself.
Interacting with patients and people in Spanish was difficult at first, but now I have so much more confidence in my interpersonal skills that I will heavily rely on in my future medical career. The people of Nicaragua were so patient with my whole group. Even when we made no logical sense, they smiled and graciously waited for us to figure out what we wanted to say. By the end of the two week trip, we had no fear of talking with people because everyone was understanding and because our Spanish improved tremendously.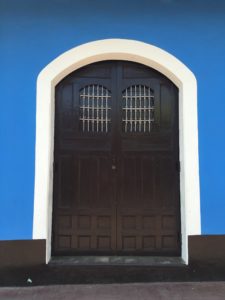 The views are some of the things I miss the most. I fell in love with the architecture especially the doors. The only souvenir I brought back for myself is a print of one of the doors taken by a local photographer. The vivacity of the colors of the buildings and the intricate details of all the cathedrals were breathtaking. I wish the buildings in the US had the same vibrant character. Also, the views from the top of the volcanos we visited were amazing. From the top of Mombacho, we could see all of Granada and las Isletas that we visited earlier in the trip. We even got to see lava at the Masaya volcano. I would definitely go back in an instant to hike around more of the country.
I made so many friends including people in my group that I would have probably never met if it wasn't for this trip. Additionally, I have a second family in Nicaragua comprised of people we worked  with in the clinic and my host family. My Nicaraguan clinical experience definitely opened my eyes to global healthcare and gave me a new perspective on life.