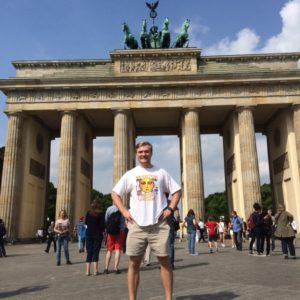 And just like that, the trip was over. I traveled back to the States with a number of my fellow travelers, which eased the separation anxiety a little.  Arriving home, my main concern was staying awake to overcome jet lag. A ten-hour flight will do a number on your internal clock. Also, I dreaded wading through customs traffic in Atlanta. I was ready to get home, see my family, and depart with the extra souvenir weight that I'd been bearing the whole day. Arriving on Memorial Day Eve made me feel extra patriotic, as well. I was welcomed home by loved ones celebrating the holiday a day early. My first meal: barbecue, beans, macaroni and cheese, and banana pudding. I couldn't complain.
After a few days of consideration of the experience, I've had a number of observations that I find interesting for a variety of reasons. First, I feel little to no attachment to either Germany or Ireland. I enjoyed both experiences, and would certainly like to go back, but I feel that breaking up a relatively short trip into two legs kept me from developing "roots" anywhere. This is in stark contrast to India and Spain, where I'd traveled for extended periods prior. Both countries from the study have a large English language influence, which made it feel like I'd never left America at times. This was particularly true for Ireland, which almost felt like visiting another American state.
Next, I had forgotten how many things we Americans take for granted. The most obvious example of this is water in both solid and liquid form. It was painfully difficult to find a drink served with ice, so much so that I quit trying after a few days. I guess Europeans just lack the proper appreciation of an "ice cold beverage." Drinking water is certainly a coveted resource across the pond. Bottles cost approximately three to four times their American counterparts. Frequently, they were more expensive than beer! After touring both the Guinness and Erdinger breweries, this seemed ludicrous to the group, considering that beer is about 90% water. This is the power of the German beer supply chain.
Continuing on that thought, one might wonder how Germans drink so much and remain in decent shape on average. Well, when one walks as much as they do in the cities, it all makes sense. According to my handy, dandy iPhone, I walked on average about seven miles per day while abroad. This includes seventeen miles on my last day in Munich. My feet still hurt. I appreciate my car and bed more than ever.
After all that complaining, I think it's about time I applauded Ireland and Germany for some of their strengths. Ireland was particularly hospitable, festive, and presented us with some of the most beautiful landscapes we'll ever see. My civil engineering background caused me to greatly admire Dublin's public transport system and "green" initiatives. Germany boasted efficiency in virtually all systems, elite design, and a deep historical awareness, which I appreciated. Driving on the right side of the road was also nice. Most importantly to me, both countries emphasized breakfast heavily. This was more than enough to win me over.
To conclude, I enjoyed the trip a great deal. Through studies and travel I feel I've gained an understanding of supply chain analytics that can't be attained from simply reading a book. I also made a number of friendships that I'm sure I'll maintain for the long haul. I would certainly recommend taking part in the trip to anyone considering for next year. I'll close with some advice for those new to studying abroad: keep an open mind about every experience; leave your comfort zone; travel light; don't buy a phone plan if there's Wi-Fi available; try all the food you can (it's an investment); buy souvenirs in places other than the tourist shops; finally, if you must use social media, only access it at night. The world grows more connected each day. It's too easy to get caught up in one's phone (Snapchat, specifically) and forget to experience reality. I was somewhat guilty of this at times. My only regret from the trip was never really feeling separated from home as a result of this social media attachment. Fortunately, this is a small issue in comparison with all the incredible benefits of my travels. I'm grateful to all who facilitated this adventure, including our faculty, UA Abroad staff, my family, and all who attended. Thanks for reading!