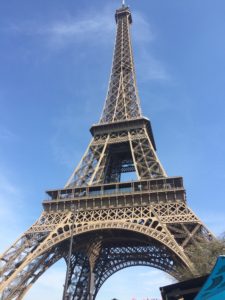 While there are so many fun experiences that we've had in Paris, academics are of course a big part of our experience. Although our classes are in Paris, we are taught by UA professors.
Each morning our classes start at 11 a.m., and our private cars pick us up at 10:20 a.m. to ensure that we get there on time. We are very lucky that we don't have to take the metro to class, which was the original plan! The ride to our classroom is always so beautiful since we get to drive along the Seine river and through the streets of Paris. It seems like we take a different route to class every day, so there is always something new to see! However, passing Notre Dame and la Musée d'Orsay every day could never get old.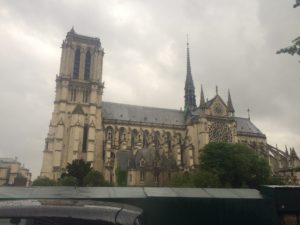 When we get to our classroom at the University Paris Diderot, we are greeted by the security guards at the door. After the recent attacks in Paris there has been increased security everywhere (which we are thankful for). We show our IDs and are let inside the building.
Before class starts, I always stop at little coffee machine to get a Café Long, which is a type of espresso. For ,50 euro, the coffee is very good!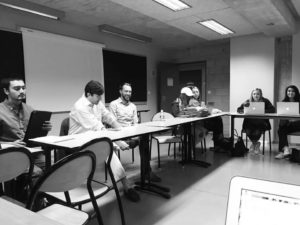 Our first class of the day is an International PR class. We sometimes start off by talking about our experiences in Paris and sharing about our excursions and places that we have visited, or the restaurants that we tried the previous day. It's really great taking an International PR class abroad because a lot of what we talk about is directly applicable to where we are at. For example, we learned about how you have to be aware of different cultures in international PR, while experiencing this new culture at the same time.
In between our classes we have a one hour break for lunch. Sometimes we use this time to grab something quick and review our reading homework before our next class, and other times we try out a new restaurant in the area. The best restaurant that we've found is called Milan, and has the best pizza!
Our second class is a social media class. In this class we study NASA's social media accounts for the International Space Station, and design our own tweets for them to use. We even got to make a group presentation for NASA Dan, who works with the International Space Station's social media.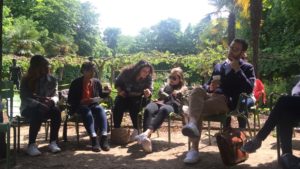 One memorable class day was a holiday in France, so no French students had class. Our professors were told that we would still have access to our classroom, but when we got there all of the doors were locked. So, instead of canceling class, we all hopped onto the metro and went to the Tuilerie Gardens to have class outdoors! We pulled up some lounge chairs and discussed our reading outside. This truly felt like studying abroad, since we were learning about International PR while sitting in the gardens in Paris with the Louvre in front of us. It was great!