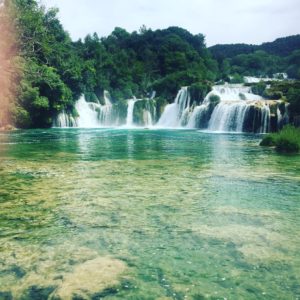 I'll start off this blog post with a cliché but oh-so-true sentence:
Studying abroad was one of the best decisions I have ever made.
I saw so many amazing places, met so many amazing people, and made memories to last a lifetime. Through ups and downs I felt that I grew as a person every one of the 142 days I spent abroad. Getting an outside perspective of the world was the perfect way to end my college experience and here are a few steps that I experienced while abroad and returning home.
Meeting people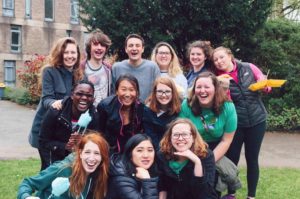 Part of my Leicester Exchange Crew
Being an exchange student and also being a solo traveler can be slightly lonely at times, but it is also a great opportunity to meet people. Although most of my exchange friends were from the United States, during my travels I befriended people from all over the world: Australia, Ireland, Canada, Italy, Malaysia just to name a few. I'm already a fairly friendly person, but I found myself being a lot more social abroad when I was away from my friends group from home and I also met people that I plan on meeting with or traveling with again. I don't think I with have another opportunity like that in my entire life.
My Quidditch Family Playing "Quidditch Hunger Games"
Learning about Cultural Differences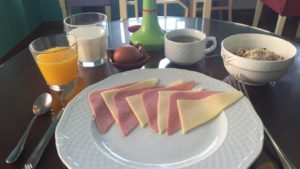 Typical Greek Style Breakfast
Living in a different country may induce culture shock at first, but then all the differences in language, slang, streets, food at the grocery store, etc. become second nature. Everything becomes comfortable. The same thing happens while traveling, and after traveling for a long time, adapting to the local culture became a lot easier and was quite fun. Some things may always be a little annoying, like differing manners in things like personal space in each country (cough cough Italy), but overall, all the differences in culture, mannerisms, food, etc, were really exciting to learn about and experience. It opened up my eyes to how the world may be different and work differently, and yet we are all just people growing up in slightly different societies.
Being frustrated at different learning/grading styles
I loved having the opportunity to study at a foreign university, but that also meant adapting to the learning style, and England is very different from the U.S. I was a film student and took my last Gen. Ed. classes at Leicester. As a media production major and creative writing minor, I was accustomed to being graded on three main things: projects, participation and attendance. In England they only grade you on one thing: One giant essay or exam given at the end of the term. That's it. If you are lucky you may get graded on two through tout the semester. This was particularly frustrating to a person who A. doesn't write papers and B. is one of the few students to show up to every class – even as the EXCHANGE student. English students priorities and expectations lie in their final piece. As long as they do well at focusing on one thing for their project, all the other things taught in the class don't matter. In America, I feel like everything is the opposite and most class work is cumulative. This was extremely frustrating to adjust to the difference and wanting to show up to class to learn, but having the room half full because other students aren't basing their final project on the lecture. I loved the classes and the knowledge I obtained, but I really do wish more students showed their faces at class and that the burden of an entirely grade on one or two assignments.
Getting comfortable with a foreign and traveling lifestyle
Another day, another train.
After meeting people and learning about culture, I became so much more comfortable living in a foreign country and adapting to a traveling lifestyle while backpacking. All the people on the street speaking a foreign language becomes common and being mistaken for a local and being asked for directions comes with the territory. After a while, it was easy to forget that I was in foreign countries and that traveling wasn't a norm. Each place started to feel like a little home and it was tough to leave. I also become an excellent navigator of public transit, but am still pretty awful at exchanging money.
The aftershock: Going back home
There are a couple of stages someone goes through when experiencing a culture: honeymoon stage, hostility stage, humor stage, and home stage. Back in the United States, I experienced the honeymoon stage when I had my long-needed desire for Chik-fil-a filled. But, I became so accustomed to an exchange and European lifestyle that acclimating back to the United States was pretty frustrating, especially at a political and social level. Trust me, Europe and the American South are very, very different and I definitely appreciated the former more. I miss meeting people from all over the world, experiencing the adventures, and I will definitely miss a lot of the food. It will take a little while to adjust back, but eventually I'll laugh at the differences, then get back to my home stage.
Overall, I cannot thank my parents enough for letting me spend a semester abroad. I cannot thank the Study/Exchange Abroad team enough for making my dreams a reality, and I am so grateful for the amazing people I met my 142 days away from the United States. I wouldn't exchange the experience for the world, but I will definitely travel it again.