When I first heard about the Nicaraguan Clinical Experience trip I immediately knew it was for me. It had everything that interested me: opportunities for lots of hands on learning in a medical setting, an environment that would force me to practice my Spanish, and the opportunity to travel and explore another country. This trip will be the culmination of a semester long class exploring the culture of Nicaragua and preparing me to communicate effectively with patients in Spanish.
Since I finished finals I haven't had a lot of time to process the fact that I am really about to leave for Central America. I've mostly been focusing on packing and making sure I have the physical necessities I will need for the trip. I have a nagging feeling that there is still something important that I'm forgetting to pack but I'll surely find out in a few days what that something is. (Update: I forgot bug-spray)
I thought I would be nervous as I prepared to leave but mostly I just feel excited to enter the unknown. I know the basic outline of what I will be doing the next few weeks but I don't know what it will really feel like to be there or if it will be anything like I expect. My trip will mostly involve mornings spent working in the Alabama-Grenada Clinic and evenings spent exploring various areas of Nicaragua. The trip I am most excited for will including hiking the active volcano Masaya. I'm sure I'll enjoy my two weeks and come back having gained valuable experiences that are completely outside of anything I've imagined thus far.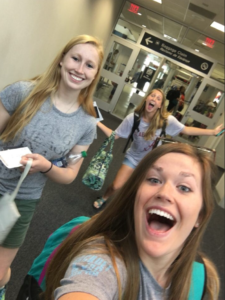 Boarding the plane