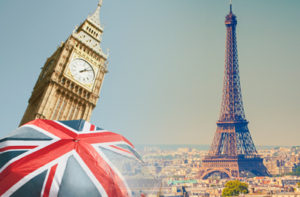 Like so many people, Paris had always been a dream of mine. I would always fantasize about the food, the shopping and the culture in general. I was thrilled when I heard about the "PR in Paris" trip. I knew that this was my shot. I would make those fantasies become a reality. I would also be spending my 21st birthday abroad, what a treat!
I immediately got in touch with a group of girls that were going on the trip with me. I wanted to plan everything! We decided that we would go to London for a few days and take the train into Paris. I was so excited that I would also get to visit the United Kingdom as well. Everything was starting to line up.
Getting ready for the trip was stressful. I was trying to wrap up my spring semester, juggle two jobs and my extracurricular activities. Thankfully, I have a fantastic mother who is also a planner. She made trips to Tuscaloosa to help me arrange everything from cleaning my apartment to how I would pay my bills while away. Even with all of her help, I was worried!
I began to get nervous a week before I left. I got so nervous that I got sick twice. I got a cold the week before I left, and the day of my flight I had to go to the hospital for horrible stomach cramps. The scariest thing was imagining that I would not make my flight to London. I was terrified and in pain.
This is one of those situations where I had to put mind over matter. I wanted to be healed so badly, that before I knew it, me and my parents were rushing to Atlanta and I was on the plane! Whew!
Once we got to London I was in a trance. We had to drag all of our luggage to the hostel where we were staying. It was a lot of work for a girl who had just been in the hospital ten hours prior. The hostel experience was interesting. I would do it again, but only for a couple of nights. Being in a room with other people can be frightening but exciting at the same time. I also got frustrated with having to lock everything up. My lock got stuck and had to be cut off our last day in London.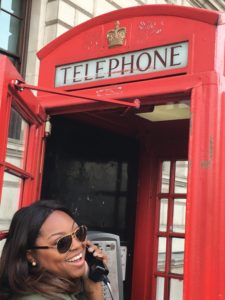 We bought a tour package ahead of time, and got to see all of London's major attractions in one day. We saw Buckingham Palace, The London Eye, and The Tower of London.
Soon it was time to finally get to Paris. It was my first time taking a train. The Eurostar was a pleasant experience. There was no drama like the airport. When we got to Paris we called a taxi and I was at the hotel before I knew it: tired and hungry.
I unpacked as soon as possible, showered, and we went for dinner. My first dinner was at an Italian restaurant and it was amazing. I knew I would be loving this city. The next day we went to the Eiffel Tower and had a picnic. I'm falling in love with Paris.
I am however trying to stay on top of my finances as much as possible. This city is beautiful, but it is expensive!
Today was our first day of class. Their schools are completely different from The University of Alabama. They are very dark and have interesting architecture. I was told that they are not as nice because they do not pay to attend college like we do in America.
I am looking forward to learning more about International Public Relations while abroad.
Hopefully this week i can get more sight seeing in, but for now I'm just trying to get my sleep schedule in order. Stability is key while abroad, and I am quickly learning that. I'm excited for what the rest of my adventure holds.