It's absolutely crazy to me to think that I have already been in Australia for over a month! The time sure does fly out here… And what an exciting month it has been!
One of the cool things about college (or as the Aussies call it, "uni") in Australia is that having classes 5 days a week isn't all that common. Sure, some students do have classes 5 days a week but I'm taking a full load of 4 classes and only have class 3 days a week (Tuesday, Wednesday, and Thursday). This makes it extremely convenient to travel or spend the weekends hanging out with friends because I typically do my studying on Fridays and Mondays. One of the biggest adjustments to uni from Alabama is that your exams and assignments are worth so much more in Australia. For example, a couple of my classes have exams or projects worth 60% and 70% of the final grade!
Another thing that I have been extremely lucky with is my accommodations. I am staying at a full-board accommodation (meaning 3 meals a day, 7 days a week) with over a hundred other students, each of us having our own bedroom and sharing a bathroom with 2 other people. Nearly everyone in the complex is an Aussie, which I love. When I moved in, I immediately had friends that knew the area and knew about Australia, making my transition much easier. This past week, I spent our week-long mid-semester break at my roommate's house in a small town about 3 hours away, which gave me the opportunity to see rural Australia, an opportunity I wouldn't have had if I wasn't living with Aussies. My suggestion to anyone studying abroad is to try to live with natives instead of other study abroad students. It has made my experience so much better!
My university, Queensland University of Technology, offers inexpensive day trips for international students to some of the nearby sight-seeing attractions. This past month, I went to Byron Bay, which was absolutely gorgeous (picture attached) and in April, I'll be going to Stradbroke Island, which is supposed to be incredible! Additionally, my apartment complex has done some trips as week such as a water park, mini golfing, and different activities throughout the complex! These have all helped me to get to know other people at uni and to experience various activities nearby!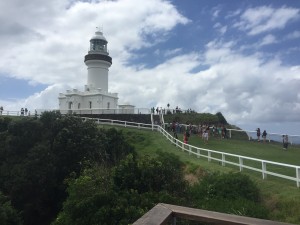 To be honest, studying abroad has been an amazing opportunity for me and I couldn't have imagined that I'd be having this much fun. I would highly recommend it to anyone considering embarking on a study abroad adventure!