Last night our group arrived at the Hartsfield-Jackson Atlanta International Airport to conclude our week-long Dominican Republic excursion. While I had a fantastic experience serving the people of San Juan and immersing myself in a new culture, I was so glad to be back in the United States. I was most excited to see my family and friends again and tell them about everything I saw and did. Though, I was also unusually eager to have my first meal that did not include rice or plantains. I am going to miss the Dominican people and the Venezuelan translators I got to know, but I am glad to be back home. I have a lot of work to do before I graduate this May, and I am ready to get back to it.
During our third and fourth clinic days, I worked with one of our healthcare providers and in the pharmacy, respectively. I was able to listen to the health history of many different people and discuss the healthcare provider's choice of treatment one day. The next day I was then the one to implement the teaching required for patients' plans of care. Between these two days of clinic, I gained a new level of comfort in collaborating with physicians and nurse practitioners. Although my role in the last two days of clinic dealt more with patients' physical needs, their spiritual needs continued to be addressed by other members of the medical team, as well as the evangelism team that made up the other part of our San Juan group. We were able to meet the needs of over 700 people throughout our final clinic days.
Over the course of this trip, I was not only able to see my faith and nursing practice work together, but I was also able to see that same faith within the context of our patients' culture. Christianity has the same core beliefs across cultures and geographic locations. However, culture and geography can also impact those outward religious practices such as public worship. In my experience, Spanish-speaking people are more expressive and visibly emotional as a whole. This cultural difference is displayed in the way in which these people participate in and conduct worship services.
I was able to see these differences firsthand when I went to a Wednesday night service at one of the local churches in San Juan. When the congregation joined in singing praise songs, the members accompanied their singing with a lot of dancing and clapping. These practices were greater outward expressions of worship in contrast to the forms of worship I am used to in the southern United States. A large majority of congregations in the southeastern U.S. are a lot more reserved. Worship is thus more of an internal process than an outward display. Neither way is more correct than the other. Each person's form of worship is between him or her and the Lord. Nevertheless, this contrast is a clear example of how culture allows the same faith to manifest differently in various people groups.
Another example of cultural influence was the way in which prayers were conducted within services. Once again, the Dominican people's method of prayer was much more responsive than anything I had ever encountered. When the pastor of the church led a time of prayer, every member of the congregation prayed out loud at the same time. Despite the significant differences I encountered among Dominican congregations, I really enjoyed being a part of and observing a different kind of worship and prayer. I gained a lot of insight into Spanish culture this week, and I loved every minute of it. The Venezuelans that I got to know this week demonstrated such a genuine joy for life and love for God and His people. It was energizing to be around both Dominicans and Venezuelans as we all worshiped the same creator and lord. I am not sure when exactly, but one day I hope to go back to the Dominican Republic and serve again. The country and its people have great needs that cannot be met by one group's week of work.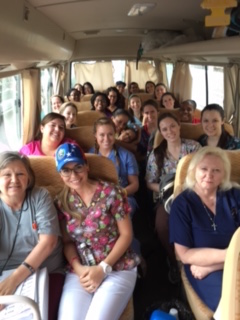 This is a picture of the medical team that worked in the clinic all week. It is a little blurry and our translators were not on the bus yet, but it gives you a good idea of how many people it took to provide care to just a fraction of San Juan.