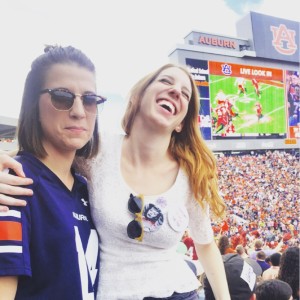 Hello, my name is Christina Irion, and I am going to share my experience with preparing for my Exchange experience.
I knew from my freshman year that I wanted to take the opportunity to study abroad before I graduated. I was unsure of the place or time that I would go, but I knew that the experiences I could gain could not be passed by. After I met a lot of friends who studied or lived in England, I knew it would be a great fit for me. I had the country, but I still needed the university.
After bothering the study abroad office countless times fall my sophomore year and even having a program in mind I had a meeting with Chad Berry to figure out if I had made the right decision. The pound is not cheap and programs I found were pricey for a scholarship kid. I voiced my concern to him- and I am sure glad I did. The next thing he said not only saved my wallet but lead me to the University was headed to. He said, "Why don't you look into the exchange programs?" There were three options for Exchange in England: Hull, Birmingham, and Leicester. I was still in sophomore year of college and unsure of when I wanted to study abroad, but knew I had options of where to go, but I now had to wait to see when I would go.
The summer before my Junior year, I was faced with an exciting dilemma: I had gotten into the next round of a highly competitive internship program, and if I would get into this program, I knew that my junior year of college would become my senior year. See, the longer I waited after college, the more difficult to spring off of the internship into a bona fide job. But where was this going to put study abroad into my college plan? If I graduated early, I had two semesters left verses four. I couldn't study abroad in the fall, so that left the only option to study abroad in the spring- my last semester.
I had to make sure this was possible and after it was looked over by the study abroad team I was assured that it was possible to be on exchange my last semester because the only credits I had to finish were general education credits. The only glitch was that I would have to be okay with finishing classes in the spring, but graduating August. As long as I had the opportunity to go abroad, everything was fine with me. I did get into the internship program, which meant that- as long as I was accepted- my last semester at a college student would be spent in England.
I chose Leicester mostly for the schedule and the suggestions from friends and students exchanging from England. The University had a schedule that was similar the Alabama's schedule, but had longer breaks. This would give me the great opportunity to travel. The University was also in a slightly larger city than Tuscaloosa and was also a very diverse city. Check and Check. Both sounded like a great match for me. The exchange process was little more difficult than a third party program. I had to go through months of applications, recommendations, and waiting. I had to first be nominated by Alabama, and then be accepted by Leicester. Only so many students are allowed to exchange per university. I started the process in September 2015 and received my final acceptance to Leicester mid November. The program began at the end of January which gave me about two months to prepare for my final semester abroad.
I cannot express the importance of pinning things in preparation for study abroad. Pinterest really is a great tool for advice on packing, travel, tips and tourism. Everything can be pinned to boards to easily decide the best tactics for stuffing a semester into a suitcase and packing the most experience into the semester. I also had to prepare for the weather, which mean warm layers, a warm rain coat, and waterproof boots. I was doing a test trial for packing about three weeks before I went abroad, and ended up having almost everything prepared. So I was uncharacteristically packed weeks in advance.
In the end I packed one giant suitcase, another empty suitcase within that suitcase to save space on my way to England but bring things home with me, a hiking backpack, a foldable extra backpack, clothing cubes for my hiking backpack, two weeks worth of clothing, plenty of warm socks and tights, five pairs of shoes- almost all boots, two coats (one waterproof), three jackets, toiletries, my computer, copies of all important documents, converters, chargers, and my ukulele. By some miracle my semester was packed up in a large suitcase, a hiking backpack, and a ukulele case, and all within the weight limit. I would like to give a shout out to space bags for being the MVP and main reason that happened.
I was definitely excited to study abroad and have a once in a lifetime opportunity, but it was also bittersweet. Most students go abroad before their senior year then finish college with their friends, but because I was graduating early, my last semester would be abroad and away from friends and family. My friends were all very understanding of my decision, but I knew I would miss them so much, especially since a lot of them were graduating. I was also very nervous about what the university and city would be like and how people would react to me. Only time would tell.
I was most excited to see what another country would be like. I had never been outside North America. I was also really curious to see the differences in teaching styles. I talked to the other exchange students and the teaching style seemed a lot less structured than I was used to. Mostly, I want to get the experience of traveling and interacting with other cultures. Even the tiniest differences are interesting. I want the semester to be a giant learning experience in cultural explorations. I want to create memories to last a lifetime and go to places I have only witnessed in pictures. I want to go out of college with a better understanding of the world and most importantly a better appreciation.