As a Chemical Engineering student, I had resigned myself to the fact that a study abroad for an entire semester was going to be impossible. Sophomore year, when I realized if I completely rearranged my schedule for the next 3 years there was a possibility to make it happen, I started class maneuvering. As I sit in my dorm in Dublin, Ireland where I'll reside for the next 4 months, it's all been worth it. Classes with sophomores as a senior, senior classes before I completed the pre-recs, they got me here.
As a traveller, I love to make the most of all of my opportunities, so when I realized I could do more than just fly straight to Ireland, I stopped over in Iceland en route. I spent 2 days in Reykjavik, Iceland taking in the mountains and snow before heading to my new school. While I though the stop-over had helped combat the jet-lag, I was beyond wrong. After finally getting my feet under me I've met some great roommates, had orientations with other Study Abroad student from all over the globe, and explored a bit of the new country I'm a part of.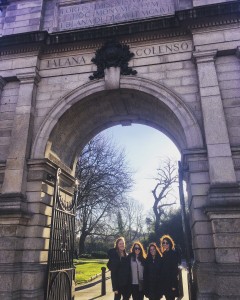 While it's bittersweet to not experience my last semester as a student at the University of Alabama in Tuscaloosa, this upcoming semester is bound to be an amazing adventure that I'll treasure forever. Ireland is a gorgeous place, rich in history and nature, I can't wait to take it all in!