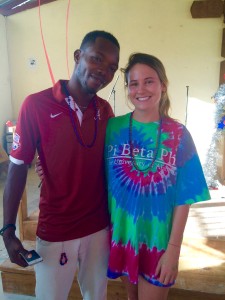 I have just arrived back in the States from a long day of traveling from Port-Au-Prince, Haiti. This trip has inspired me in many ways. I no longer feel the need to be dependent on material things. After learning that most Haitian people make an average of $4 U.S. dollars a day to live off of, I realized how lucky we really are.
But, beneath all of the daily hardships faced by these people, they smile, they laugh, and they are excited to start new journeys in their lives. Seeing all of these people every day for a week, excited to learn and fully participating in our classes, I realized that I take advantage of a lot of the little things I don't usually appreciate. Money isn't everything. These people were the perfect example that we can be our happiest when we spend time with the people we love most, doing what we love to do.
I miss being in Haiti. The differences in the ambiance of the country, the food, and the language are strangely different and make each unique. I plan to go back to Haiti and help these people again, whether it be in the same way as this past trip, or another way. However I can help is what I want to do.
My outlook on life has changed. I want to focus more on the things that make me happy, and not take advantage of the little things that I often take for granted. The best things in life are free, and for me, the opportunity to have a free friendship with many new Haitians will impact my life forever.