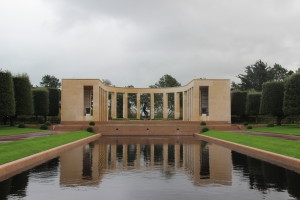 This past weekend I decided to take a day trip to Normandy to visit Bayeux and the American Cemetery at Omaha beach. I took a train from the Gare Saint Lazare in Paris to Bayeux, which is only 20 minutes from the American Cemetery. The American Cemetery has an excellent exhibition that prepares one for visiting the cemetery and the beach afterwards. Standing in the cemetery of over 9,000 graves was a very moving experience. The fact that so many of the soldiers who landed in Normandy in 1944 were around my age, if not younger, made the experience even more meaningful.
After touring the cemetery, I made my way down to the beach. Passing the German gun batteries amidst various memorials, with a vista of a beautiful coastline was something I'll never forget. It was easy to imagine June 6, 1944, and the chaos and intensity of that day. Now, however, the beaches are very peaceful and were a perfect place to contemplate D-Day and the effects of the Second World War on Europe as I made my way to Saint Laurent Sur Mer, the small village in the center of Omaha beach.
I spent the rest of the afternoon in Bayeux, which is a typical Norman village and home to the famous Bayeux Tapestry. The Bayeux Tapestry, which is 70 meters long and made in the 1070s, tells the story of William the Conqueror, a Norman. After the Tapestry Museum, I visited the nearly one thousand year old Cathedral and explored the streets of Bayeux, a village so charming, it is impossible to imagine it was once the stage for war.