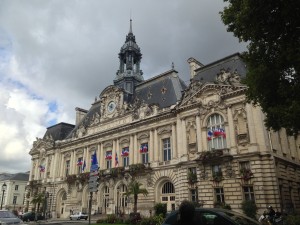 In France, there is a long fall break of about one week at the end of October called Toussaint. French students from around the country leave in mass exoduses to various countries in and around Europe for a week of exploration before the weather turns grey and foul in winter. For many, this can mean simply a weekend trip to Paris or it can mean a week in Istanbul. The only constraints are time and budget. For my friend Emily – an English exchange student from Newcastle, England who studies Linguistics at the University of Edinburgh – and I this Toussaint was spent in the city of Prague.
Prague is a city of many epithets: the threshold to the East; the city of magic; the city of imagination. The name for Prague comes from the Czech word "práh," which means doorstep. Legend has it that when the founders of Prague decided to settle the city, they came upon a laborer building the threshold to his house and decided to name the city "Praha." However, as we were told by everyone in Prague, every story in this city has a rational and a symbolic version. Symbolically, Prague has been the threshold to Eastern Europe and Asia and a widely contested and often ravaged land known for fertile soils, strategic importance, and its hearty people. Today, Prague is a cultural and historical center to which people from around the world flock in order to see what the city has to offer at all hours of the day.
Indeed, the city never seems to sleep; it is just as busy at 1am as it is at noon. There is Nightlife abound in the country where the beer is cheaper than water, a truly Czech invention. After all, the Czechs did invent the current amber-colored beer we now know as "beer." It is a city where the living is cheap but the sights are beautiful and the people are cordial and lively, always ready to talk about the magic of their home. The Czech language is a beautiful, poetic language that captivates people like the capital city itself. Eating in the Czech Republic is to eat like a king for every meal: goulashes that you will never be able to taste the same way twice; beers brewed the same way for five hundred years; bread dumplings so good that you will excuse yourself for putting on a pound or two during a six day stay; all of this and more for under $10 a meal. Staying in Prague is cheap as well, for two people in a very nice, center-located hostel only runs about $120. Six hour tours that include train rides and museum fees run no more than $37. Museums usually cost about $7.50 for students, usually less. Clothing is very cheap and well made. Bar crawling is cheap and the people are always willing to share a drink and have a good night. The people of the Czech Republic pride themselves on their non-violence and their resilience despite almost a thousand years of oppression. Prague is a city of light that stands at the end of a long tunnel of dark history.
Prague and the Czech Republic have suffered at the hands of the Catholic Church, Crusaders, Austrians, corrupt German nobility, Nazis, and Communism, and yet the nation has remained strong in its identity and beliefs. It is in Prague that Mozart felt appreciated, whereas in the Austrian courts he felt as if he was not being recognized. It was here that the second performance of Don Giovanni was performed and it was here that it was so popular that it had to be regularly premiered three days in a row to satisfy the demand at the time. Even today Don Giovanni is performed in the same opera house at least once a week. Prague is the home of Franz Kafka, who is just now starting to be known in his home country, where years of Nazi occupation and Soviet Communism made sure none of the Czech people would be able to read his works. Alphonse Mucha, the creator of all we know as art nouveau illustration and painting, was a native of Prague and never forgot his people in their time of need, designing the country's first bank notes when independence from Austria-Hungary was declared on the 28th October 1918, the celebration for which we were able to attend. The city on independence day was a hodgepodge of protestors and patriots (they only received independence from the Soviets in 1989) as we toured Prague Castle, the world's largest castle. The Czech military and police force were in full regalia, celebrating peacefully and, yet, solemnly with the people that had started to mass around the President's office to offer flowers at the foot of a statue of their first president.
Amongst the tours of Prague Castle, we visited museums, villages, cathedrals, and even a movie set for the Three Musketeers during our stay. Alas, Prague is truly a city of magic and the Czech Republic is its reflection. Indeed, it would seem the city streets themselves would shift, making it nearly impossible to discern where exactly one was. Luckily, my French phone plan worked in the Czech Republic, so Google maps ended up rescuing the two of us more than once (in fact, twice a day at least). At least, getting lost in Prague will not put you in harm's way, since Prague is probably the safest city I have ever been in my life. Plus, getting lost means discovering even more beautiful and astonishing parts of the city that you'd never be able to see if you hadn't just let yourself wander aimlessly a bit. In Prague, every time you get lost is an opportunity to find something magical and hidden amongst buildings in every style of architecture. The city itself is a piece of art where the facades of apartment buildings are covered in ornate paintings and sculptures from all ages of art history from medieval art to art nouveau and even modern art.
Alas, putting all of Prague and our trip in one blog post would mean that I would be writing a book rather than a blog post, so I will likely be writing more about our time in Prague and the eccentric people we met, amongst which was a crazy Russian-expat who runs the KGB Museum of Prague. I strongly suggest this museum to anyone in Prague. If you have to do anything go to this museum; trust me it'll be worth the whole trip to watch this guy give his spiel. More on that in another post. But, I say this to anyone who has the time and money to travel while in Europe: Prague will be the trip of a lifetime. The city will captivate you like it captivated Emily and I, and so many millions of others. It is a city without parallel, and it is a definite for anyone who would be able to visit.