Well the adventure has finally begun on September 1st, 2015 & I'm outta here. After over 6 months of planning I am finally studying abroad in Florence Italy at Florence University of the Arts.
Arriving to the airport was where it all started. I was allowed to check in one bag that weighed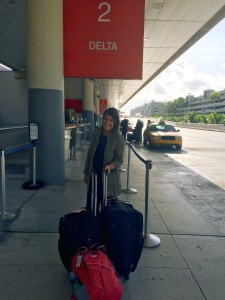 50lbs. So I confidently walked up to the checkin counter, because confidence is the key right? Placed my HUGE suitcase on the scale and its weighed 62 lbs…12 pounds over…now what?? Haha I was determined to not pay the $100 fee for the overweight package ( I can find much better things to spend $100 on in Italy lol) So after 25 minutes of moving items around and putting on my winter coat, boots and jeans  to save weight/space, I somehow managed to get my bag down to 54lbs and a now have a busting open carry-on and 2 broken nails. I was still 4 lbs over, sometimes you just have to smile and hope for he best, luckily it worked this time!! He said he would let it slide ..one problem… it can't say in the system my suitcase was overweight. I have to lightly lift to relieve 4 pounds off the suitcase so that the number on the check in paperwork was only 50 lbs. (shhhhh! A little white lie never killed anyone right?)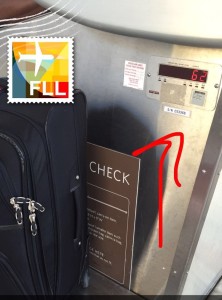 Now on to getting through security where they tell me my carry-on roller is too big to fit on the place but after some more convincing they finally let me through security. Luckily all my bags easily went through security problem free!!!
I'm ready to board my flight to Atlanta to complete my first leg. EXCEPT when I go to walk through the gate to board the plane, of course my carry on rolling suitcase is still too  big. They now inform me that I must check the bag at the gate and that it will be checked all the way to Florence….free of charge sounds great right?? Except I am now the last person to board the place and may have held up the plane an extra  5 minutes… lets just say I got a few glares on my way back to seat 38C.
Being the libra that I am I instantly started making a a pro/cons list of now checking my carry-on bag all the way to Florence:
Pros-
1. one less bag to lug around the Atlanta and Amsterdam airports during my layovers
2. I won't have to find a way to somehow lift this heavy bag over my head to place into the overhead compartment and some way not drop the bag on someone's head in the process.
Cons-
1. What if the the bags gets lost?!??
2. My medicine for the next 15 weeks is in there that must be refrigerated. Hope my lunchbox and ice pack does the trick lol
3. The baggage people aren't exactly the gentlest and that bag has my canon rebel camera and gopro sitting right on top…awesome…
4. Not really sure what was even in the bag to be honest. After having to repack all three bags at the airport 2 separate times..nothing is where I had packed it the night before…
So I am now sitting on the plane Florence bound! Or should I say Atlanta bound.. I still she 2 more flights to board prior to touching ground in italy. It has already been nothing short of an adventure but I didn't expect anything less. The only thing I can do now is hope and pray that everything arrives in Florence all in one piece including ME. Ciao for now