May 15th, 2015:
Goodbye Dublin! We all woke up early since we had to be in the lobby at 7:45. I am a huge procrastinator when it comes to packing so I did not get a whole lot of sleep at all. Luckily, we all made it on the bus and got to the airport. This is where it all got a little crazy. I had already over-packed for the trip as it was, so I definitely did not have enough room for all of the souvenirs that I had accumulated so far. I ended up forcing everything into my carry-on bag just so I could fit all my stuff in my checked bag under the weight limit. Easier said than done. So needless to say, I had a crude awakening when Turkish Air told me they had to weigh my carry-on. It was supposed to be 8kg (AKA nothing). I ended up having to transfer all my stuff back into my checked bag. In the land of Turkey, you are allowed 32kg (which is definitely not 50 pounds, more like close to 70). The women who were checking me in were not all that pleasant either. I was later notified that I could check TWO bags for free on that flight. I was not a very happy camper… but about 6 hours later, I was in Turkey and had both my bags, so I guess it was okay. I was trave   ling the world. I guess I can't c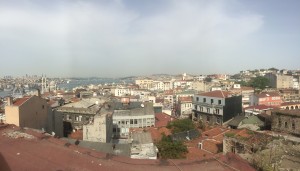 omplain too much about that.
We got on a bus that took us around the older part of the city and then eventually got to the hotel. We were all extremely tired, so we didn't really get to enjoy all of the sights on that day. We finally got to the hotel and dropped off all of our stuff. Then our professor took us to dinner that was just down the street from our hotel. Our dinner consisted of us getting to try our first (and definitely not the last) kebabs. We also got to try Aryan, a Turkish drink basically made out of yogurt, for our first and my last time. Let me tell you, they really love their yogurt. After dinner, all the girls went to buy some head scarves, seeing as we were going to the mosques the next day. After that, we all headed back to the hotel, in a desperate need for sleep.
May 16th, 2015:
Today was our first official day in Turkey! We had to wake up early and head down to the lobby, where we got to meet our tour guide fo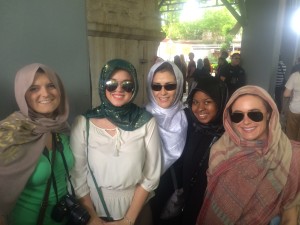 r the next week, Yil. Let me just tell you about Yil. He made our time in Turkey so much fun, although most of the time was spent mimicking his accent and mannerisms. We loved him all the same. I'm proud to say that we are Facebook friends now. Anyway, we had our meet and greet and then we all began our walk on the town. We first walked about two blocks and saw the governor's palace. Even the gates were beautiful. From there we headed straight to the Blue Mosque, which was also right across the street from the Hagia Sofia. I had taken Asian Art History my freshmen year and it was amazing to me that these people had monumental buildings right near their houses. People were taking their morning strolls just casually next to buildings that were built centuries ago. It was all incredible to see. We toured both the Blue Mosque and the Hagia Sofia that day. It was actually very interesting because unlike all other mosques, the Hagia Sofia does not face towa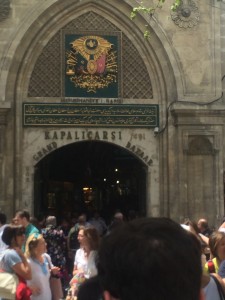 rd Meca. The reason being is that it was first built as a Christian church. All in all, the history was amazing in both mosques. It was very fun to get immersed into their culture, as we all walked in with our headscarves, shoes off, and covered ankles. We were all dressed conservatively and looked the part. After that, we went to lunch… again kebabs. I will say by Day 5 in Istanbul, they got a little old. We finished up the day by going and attempting to navigate the Grand Bazaar. Fun fact. Apparently, it is the top tourist attraction in the world. Anyway, we all got a little claustrophobia in that huge mall but it was still a great experience that I will never forget. Their style of bargaining is unlike I've ever seen before, that's for sure!
We ended our night w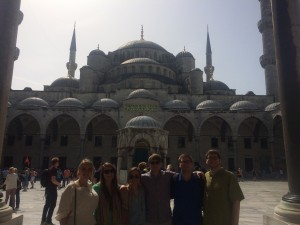 ith a welcome dinner at a very fancy hotel and, later we found out, a nightclub. We ate an amazing dinner and watched the best belly dancers in Turkey. Then after dinner, they just started playing club music, so naturally being the huge group of Americans that we are, we all went and danced on stage. Overall, great first day in Turkey.