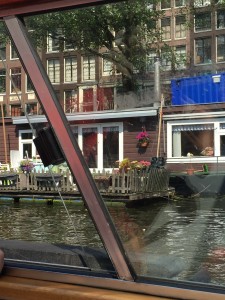 Hello! My name is Patrick Steadman, and I have chosen to study abroad in Copenhagen, Denmark for the entire month of July. There will be many posts to come highlighting Copenhagen and any other place I get the opportunity to visit, but this post is focused on another city, Amsterdam.  Our UA lead professor, Dr. Turner, had the wonderful idea of booking a flight itinerary that involved a day-long layover in the city of Amsterdam on the way to Denmark from the United States.  After spending this layover hitting several of the high points that this stunning city had to offer, I would definitely recommend this plan to future travelers who would like to visit a city apart from their destination without making their airfare from origin to destination any more expensive.
Honestly, our whole group was exhausted in Amsterdam. Having only slept 45 minutes on the Trans-Atlantic flight, I fought an eight hour battle with jet lag while sightseeing. The beauty of the city and its canals and buildings helped me to win that fight. Our group started our layover activites with a canal boat tour of the city, and it was definitely my favorite part of what we did in Amsterdam. Our boat was guided up and down the many canals of Amsterdam, giving us all up-close views of the city's gorgeous architecture and classic bridges and house-boats.  I cannot honestly say that I would want to live in a house boat where a countless number of tour boats go right by each and every day, but that's just me. And who knew 25,000 bikes were pulled out of the canal waters in Amsterdam each year (Can I have one for Copenhagen, please?).  The definitive highlight of this canal tour was seeing the facade of the building that housed Anne Frank while she was writing her historic diary. Though we did not have the time to wait in line and go in, it was still amazing to be right out in front of a building that contains so much history.
After the canal tour and a nice Dutch lunch (I still can't accurately describe Dutch Veal Kroket), our group headed to the Heineken Experience.  Being a large group of chemical engineering majors, we fit right in at this large factory turned museum that explains how Heineken brews its beer. Though the crew informed us that "Yeast A" is a big secret that only 30 people are allowed to know world-wide, the crew taught us everything there is to know about Heineken beer, including how to drink it properly. We even got to go on this Motion-simulator type ride equipped with a large screen that made it seem as if we were inside the large tanks where the brewing process occurs.  I must admit that "Willy Wonka & The Chocolate Factory" came to mind as bubbles started streaming down during this ride experience (Fizzy Lifting Drinks, anyone?).
We ended our whirlwind tour of Amsterdam with a visit to the Van Gogh Museum. This museum is the most comprehesive look at both the life and the works of Vincent Van Gogh. The four stories of art and letters written by Van Gogh told an amazing story of such an intriguing man. Being just a few inches away from some of the most iconic paintings from such a well-known and revered artist is nothing short of breathtaking. Though not the biggest art enthusiast out there, I can definitely appreciate good art and the wonderful opportunity to see the real works themselves that Van Gogh himself was once working on back in the late nineteenth century.  Enough to humble, and enough to awe.