With a weekend free of labs and lab reports, a group of four of us decided to take a 3 day trip to the wonderful city of Berlin, Germany.  We started off our activities with a trip to see the  Brandenburg Gate. This neoclassical triumphal arch is gorgeous, and it is one of the iconic landmarks of the country.
We started off the next morning with a hike to the top of the Berlin Victory Column.  The tower was built as a monument to honor a German victory over Denmark (I felt a little guilty), and it reaches 67 meters into the sky.  Once atop the tower, one gets an extraordinary view of the entire city of Berlin and the nearby Tiergarten park.  I have always loved heights and views, although I must admit the climbing of hundreds of stairs was a bit harder than I let on to the group.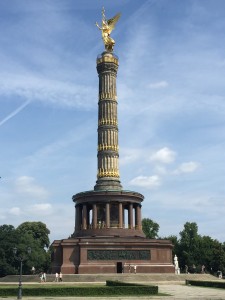 Berlin Victory Column
A visit to Berlin would not be complete without seeing an old section of the wall and the accompanying Berlin Wall Museum.  The amount of history surrounding the wall is immense, and it was so surreal to look at it, touch it, and think about what it must have meant to the inhabitants of West and East Berlin for all of those years.  The somber memorial that displayed the photos of the 138 who died crossing over the wall, some of them children, filled you with sadness and respect for their bravery.
German Food.  This will not come as a surprise to those who know me, but I get really excited about eating local food of a new culture, even if there is no guarantee that I will care for the food at all.  The authentic German food that we had did not disappoint.  My favorite was the famous, touristy currywurst. The fried sausage seasoned with the curry ketchup provided a flavor far better than I imagined possible for the pair.  We also had a nice sit-down dinner, feasting on schweinshaxe, sauerkraut, and fried potatoes. I will let the photos do the talking for that meal.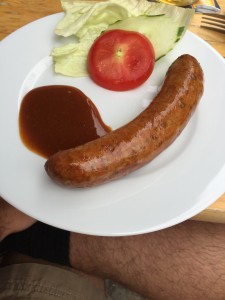 Currywurst
The last highlight of our excursion consisted of a trip to Berlin's Museum Island, the site of a number of fantastic museums.  My favorite was definitely the Pergamonmuseum.  The collection was MASSIVE, and the museum was home to the most impressive antiquity collection. Iconic excavations, sculptures, and artifacts from ancient Babylon, Mesopotamia, Rome, Olympia, Cyprus, Assyria, and so much more.  My favorite pieces were the incredible Pergamon Altar and towering Ishtar Gate. Many thanks are in order to all the men and women who conducted the excavation expeditions necessary to bring so many wonderful historical remains under one roof in Berlin, Germany.