I've arrived home but I wrote this while I was in East Asia:
All I can say is wow! East Asia is such an amazing experience. This medical trip is more than I had ever expected it to be. It has exceeded my expectations and invited me to a whole different world and experience. Embarking on our 15-hour flight was my first new experience. The 15-hour flight went better than I had expected, I got to make new bonds with new friends and watch a couple movies. During my flight, I had the opportunity to watch the sunrise and the sun set. As we flew through the sunset and the beautiful clouds I couldn't wait to embark on this life-changing trip.
When we arrived to East Asia, friends with open arms and welcoming smiles greeted us. Wow! I am finally in East Asia. As I drove in the bus I couldn't stop staring at the view that surrounded me. The atmosphere was just green and beautiful. I saw farmers, people riding bikes, and children playing outside buildings.
During my time in East Asia we have visited many factories and provided medical care to all the workers. The people are so excited and friendly to us. With the help of my translator I'm enjoying meeting new people and talking with them. What I'm really enjoying the most is taking care of these beautiful East Asia people. My patients consist of babies, teenagers, older adults, and the elderly. They are so eager to learn about their health and what they can do to improve it. I admire their work ethic as well because soon after they are provided with medical care they go back to their busy work schedule. I'm so grateful that I was given this opportunity to provide medical care and show love to these people.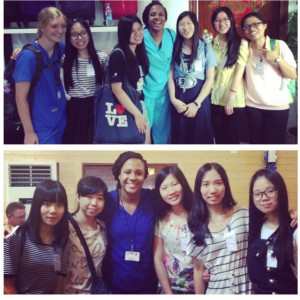 The food is so different and amazing as well. I have been enjoying the local restaurants with their noodles, different flavored chicken, and beef dumplings. I've really been enjoying those beef dumplings. They're so delicious! In addition, I also got the opportunity to sample some duck as well. The duck had a very interesting taste and I was very excited that I got to taste it for the first time. In East Asia, their driving skills are very unique. The drivers have no room to text while driving. They change lanes so quickly, it's like stop signs didn't even exist there. Nevertheless, I loved the thrill and adventure of their driving. It kept me alert and definitely aware of my surroundings as we drove. The bus drivers have a great sense of humor as well. One of them found it so funny the way I was using my chop sticks at dinner. He made sure I learned it the right way and these chop sticks aren't holding me back anymore!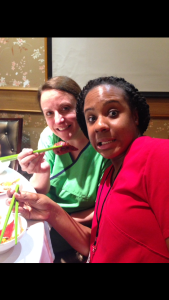 Our translators are really great people. My translator and I are around the same age and we bonded within the first couple days. She is really helpful at the medical clinics and at dinner. I don't know what I would do  without her. She also taught me some new words that I use when I interact with my patients on a daily basis.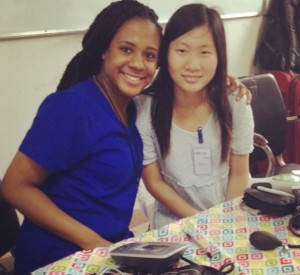 On this trip we had the incredible opportunity to visit the Great Wall and The Forbidden City. The Forbidden City is such a beautiful place. The Great Wall also amazed me; the work that went into building that wall is mind blowing. I'm enjoying this trip so much! The people are great! The food is great and the culture is so interesting and wonderful! It's only been a couple days and I don't want to leave. I know for certain that this will not be my last medical trip. I absolutely love providing health care to these people. I've shed both sweat and tears on this trip and I know there's more to come. East Asia I love you!
So thankful,
Keema Boland