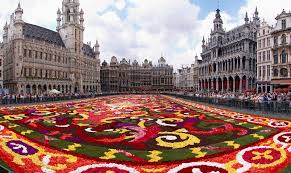 This will be my second study abroad trip. Although I'm going back to Europe, everything about the trip will be different this time around. Last year I went to Rome for five weeks through ISA. I loved being in a new place with people I've never met before because it forced all of us out of our shells, and the only option we had was making friends with strangers. That trip was incredible, and I still keep in touch with almost everyone I met.
A different adventure awaits this summer. I'll be in Brussels for three and a half weeks on a UA-led program with a professor I already know and a group of about 20 students with whom I'm already familiar.
When I enrolled at the University of Alabama nearly four years ago, I decided I wanted to make the most of my experience. The process of choosing where I want to go is a lengthy one. First, I think about the language barriers. I have kind of a set rule for myself: I only go to countries whose languages I have the desire to learn. Languages are the greatest source of stepping into another country's culture, aside from the food, so it's important to communicate with the people in said countries.
I chose to study in Rome last summer because I knew I'd love to learn Italian. When I sat down in December to decide where I wanted to go, I was thinking about Spanish-speaking countries since I've taken years of Spanish. During my research, I almost decided to forego studying abroad again because the cost of the programs had increased.
This Belgium program kind of fell into my lap. I woke up one morning reading through my emails before I went to class, and there happened to be one from my professor informing us of this trip abroad. The price is significantly lower than any other trip to Europe I could find, and it includes weekends to London and Paris. What more could a person want?
What really played a role in my choosing this program, aside from the financial factor, was the classes being offered. I only choose study abroad trips that have classes that directly pertain to my majors. The two classes I'll be taking in Belgium not only eliminate the rest of my Political Science requirements for my second major, but I could graduate a semester early if I so choose.
Preparations for my trip abroad started back in December, but now I'm getting into my traveling mindset. One of my fears for this summer is that I won't give this trip the credit it needs. I catch myself comparing Belgium to Rome all the time. Last summer was unforgettable and I'm thankful for everything about it, but I need to remember that this is a new city with new people and new opportunities.
I cannot wait to depart for my second adventure of  a lifetime in six days!